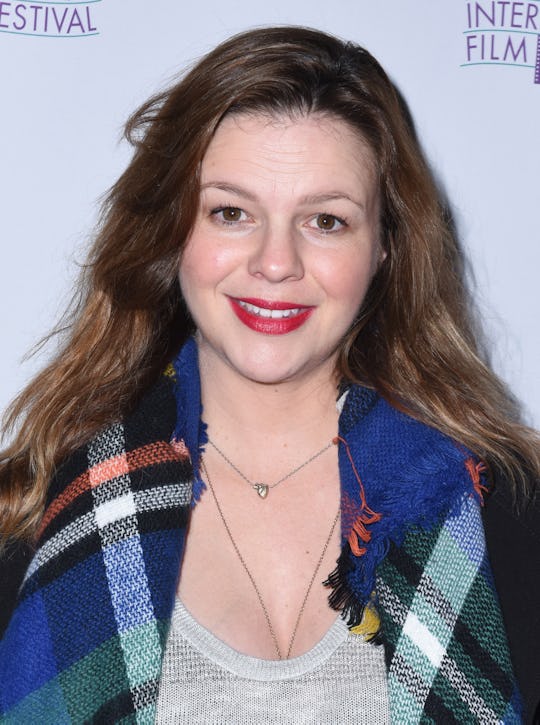 Vivien Killilea/Getty Images Entertainment/Getty Images
Amber Tamblyn Tweets The Truth About Being A Mom
Actress Amber Tamblyn has a history of being outspoken. Hilariously, honestly, bluntly outspoken. Whether she's discussing the nature of modern feminism, politics (namely one President Donald Trump), or her own life, she's always absolutely worth listening to. And Tamblyn's tweets about motherhood are no different; she might be a first time parent of a wee little girl, but Tamblyn already just totally gets it.
The Sisterhood of the Travelling Pants actress gave birth to daughter Marlow Alice on Feb. 21. But the rest of the world didn't know what Marlow's name was for quite some time. Because she and husband, fellow actor David Cross, weren't exactly forthcoming with the baby's name. In an Instagram post announcing their daughter's birth, Tamblyn shared a short video of her baby's arm moving around with the caption:
David and I are proud to announce the birth of our daughter, Dauphinoise Petunia Brittany Scheherazade Von Funkinstein Mustard Witch RBG Cross Tamblyn-Bey jr. #thefutureisfemale
It was only after she shared a letter penned to her baby from none other than former Democratic presidential candidate Hillary Clinton that we learned the real name. The letter was addressed to Marlow Alice Cross and read:
Dear Marlow: Happy Birthday. Your birth has been a source of great joy for your parents, Amber and David, and your vast community of admirers and champions. I send my best wishes to you for a lifetime of amazing accomplishments and adventures, full of love, learning, and friendship. With warm regards, I am Sincerely yours, Hillary Rodham Clinton.
After the big reveal, Tamblyn (who is also a director, book reviewer for BUST magazine, and columnist for Glamour) started to get a little more forthcoming about her time with little Marlow. As evidenced by this tweet right here.
Tamblyn has also shared some of her super relateable parenting struggles with her social media community. Like the slightly less glamorous side of parenting fashion when one is breastfeeding:
Tamblyn captioned the picture of herself wearing a wrinkled, milk-stained shirt: "Who wore it better, left tit or right tit?"
She also tweeted the first time she got to enjoy a sweet, sweet alcoholic beverage.
As a poet and avid feminist, Tamblyn naturally took part in the International Women's Strike on Mar. 8. She penned a beautiful poem in honor of A Day Without A Woman as resident poet for Amy Poehler's Smart Girls.
And then she got real about what writing that poem with a babe-in-arms actually looked like. Which, to me, was almost as important as the message itself.
That's what so great about Amber Tamblyn, right there. She is in the business of being real, even while working in an industry rather dedicated to the unreal. She's not sugar coating parenting, but she's still embracing what it is to bring a human into this world. And for this, I would share my magical jeans with her any day of the week.