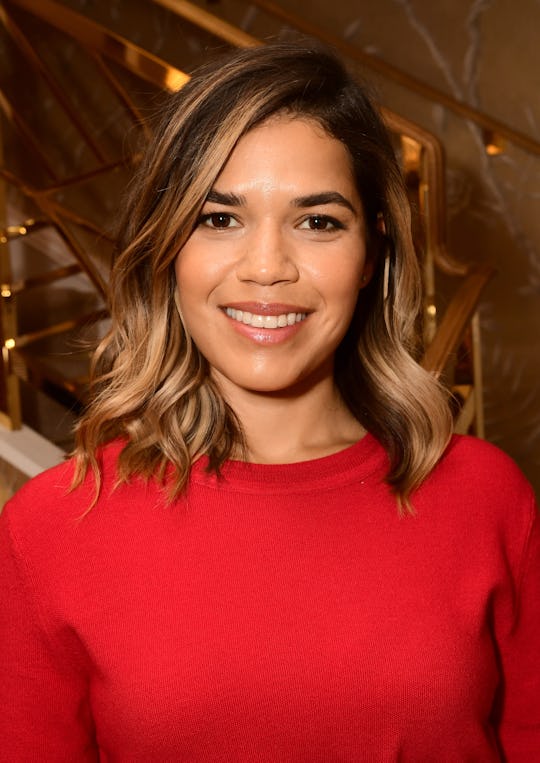 Emma McIntyre/Getty Images Entertainment/Getty Images
America Ferrera Welcomes Her First Child & Her Birth Announcement Is *So* Gorgeous
Well here's a nice little bit of news for anyone who was a fan of The Sisterhood Of The Traveling Pants (so everyone alive, I guess). America Ferrera has welcomed her first child and shared the happy news in a really lovely Instagram post on Tuesday afternoon. And now all we can do is sit around to wait for the whole cast to get together with their kids... it could happen, you never know.
The Superstore actress and her husband of nearly seven years, actor and director Ryan Piers Williams, took to social media on Tuesday to announce they had welcomed a baby boy. Neither of them had previously shared the sex of the baby, so it was actually extra exciting to find out after he was born. Sort of retro, I guess; maybe there's something to be said about waiting to find out and skipping the increasingly competitive gender reveal party market.
Ferrara shared a picture of her new son's tiny foot being held by both her and her husband's hands on Instagram with the sweet caption, "When 2 become 3...Welcome Sebastian Piers Williams - aka Baz! Mom, Dad, and Baby are happy, healthy and totally in love!" So yes, everyone, they named their baby Sebastian and are calling him Baz. This, to me, is rather wonderful.
Ferrera and Williams have been together for almost 13 years, ever since the aspiring director cast Ferrera in a student film he was making at the University of Southern California, according to People. They first shared the news that they would be expanding their happy little family on New Year's Eve last year with a picture of the Ugly Betty star holding up a little onesie and the caption:
We're welcoming one more face to kiss in 2018! Wishing you #MásBesos in the New Year!
If Ferrera is nervous about being a first-time mom, she's really lucky in one department; she has a bunch of experienced mom friends she can call on for advice at a moment's notice. And three of those friends once shared traveling pants with her, so they've really been deep in it together already. Ferrera told Us Weekly back in April that she's been looking to her close friends and former co-stars Blake Lively, Amber Tamblyn, and Alexis Bledel (her "Sisterhood gang," as she calls them) for parenting advice. As Ferrera told Us Weekly, she asked them about:
Everything from trying to wrap my mind around the actual birth itself and talking about what their experiences were and what to prepare for. I think one of the things, for every woman I've spoken to, is once you've been through it — it's like, let go of your expectations because it's going to be what it's going to be.
Lively is the mother of two little girls with husband Ryan Reynolds, Tamblyn has one daughter with husband David Cross, and Bledel is the mother of one son with husband Vincent Kartheiser. So between them, they clearly know what they're talking about. And more than happy enough to share their years of wisdom with Ferrera, it seems. Also that playdate idea is an actual thing, as Tamblyn told Us Weekly in March. The Sisterhood gang already have playdates, and they've even talked about getting their kids to share magical pants! As Tamblyn noted, size will matter:
We'll have to get the tiniest pants you've ever seen in your whole life.
It's nice to know that Ferrara's little boy Sebastian "Baz" has been born into such an awesome community of friends. And if he does manage to get hooked up with a solid pair of traveling pants... well, how lucky is that?