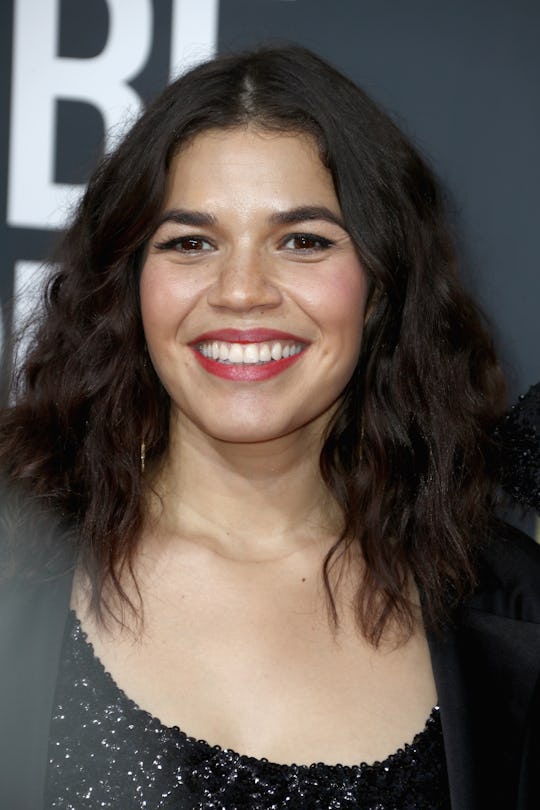 Frederick M. Brown/Getty Images Entertainment/Getty Images
New Mom America Ferrera Just Delivered A Brilliant Speech At "Families Belong Together"
Becoming a mother changes you in ways you don't even realize are possible. It opens your eyes to the hurts and sorrows of the world in so many ways, because all you can do is look at this person you love and wonder, What it it was my child? What if it was my family? And so it is with America Ferrera. The new mom took to the stage on Saturday to share an incredibly important message that will resonate for some time to come. Ferrera's "Families Belong Together" speech was all about empathy, about how it would feel if it were your family being torn apart at the border. As she so aptly pointed out' "This fight belongs to all of us."
The Sisterhood Of The Traveling Pants actress was a speaker at the "Families Belong Together" rally at LaFayette Square in Washington, D.C. on Saturday. Along with thousands of people, she was there to protest President Trump's "zero tolerance" immigration policy, and how this has directly affected families who have come to the US-Mexico border to seek asylum. These families have been detained at the border, with more than 2,000 children separated from their parents. The message being shared by protesters in D.C. and 700 communities across the country was clear: these families need to be reunited immediately.
And Ferrera, who just became a first-time mom herself to baby boy Sebastian in May, wanted to bring that point home.
Ferrera took to the stage to share a powerful message: "We have an imagination. Let's use it. As I read these words from a grandfather who is fighting to be reunited with his granddaughter, I want you to imagine this is your child."
She went on to read an especially poignant letter from a grandfather who was petitioning to sponsor his granddaughter from El Salvador. The granddaughter in question (names were changed to protect the family's privacy" is reportedly being held in a detention center at the border. As Ferrera read:
I am the grandfather of Theresa, who is currently detained at Shiloh Residential Treatment Center. I am currently living in a duplex apartment in Oakland, California. I work every day as a food vendor. I want to be her sponsor because she is my granddaughter and I am her grandfather.
The letter went on to explain that this grandfather is able to care for his granddaughter, that he "knows he doesn't make a lot of money," but "everything I have I will give to her."
Sadly, the situation has yet to be resolved. This granddaughter, who has a home to go to and a person who loves her, is still being detained.
And this is why people march.
Ferrera has a history of giving fiery speeches. At the Women's March in January 2017, she gave a powerful speech as a "woman, and as a proud first-generation American born to Honduran immigrants:"
Ferrera went on to point out that the American people would "refuse to see the worst in each other," despite Trump's divisive presidential campaign. She took aim in particular at Trump's anti-immigration stance:
We will not go from being a nation of immigrants to a nation of ignorance. We won't build walls, and we won't see the worst in each other.
America Ferrera has been speaking out against racism, bigotry, and misogyny for years. But this time around, she's a mom. A mom who worries not just about the future in general, but a specific future. One that includes her baby boy. The former Ugly Betty actress shared a quote on Instagram to go along with a picture of herself with her baby and her husband, Rhys Piers Williams that read:
'I would want people to fight for my family. It's that simple.' - public school teacher protesting family separation in Milwaukee. Couldn't have said it better myself.
America Ferrera is going to keep on making sure she's heard. As a woman, a first-generation American... and a mom.