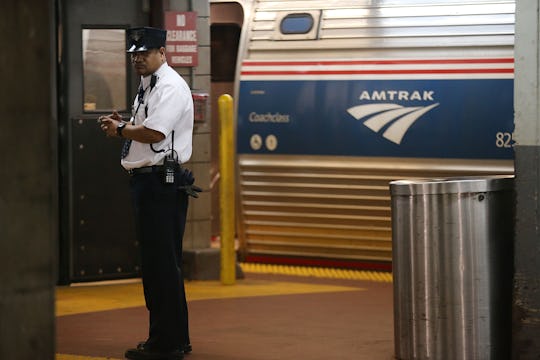 Spencer Platt/Getty Images News/Getty Images
Amtrak Unveils "Lactation Suites" For Breastfeeding Moms & It's A Huge Step Forward
Today is a good day for nursing moms. According to a press release issued by the rail company, Amtrak is adding "lactation suites" for breastfeeding mothers in their Washington, D.C., Baltimore, Philadelphia, and Chicago stations this summer. One is coming to New York's Penn Station in early fall, too.
The move comes less than a year after two Philly-based working moms started petitions for the train stations to provide women with a safe, clean, and private place to breastfeed or express their milk. As so many women know, breastfeeding in public is legal in 49 states. But there's never a really great place for them to do so, especially in a train station bathroom. I mean, we've all been to a major transportation hub and thought twice about making a run for the bathroom or just waiting until we got home right? They're not great for what they're intended for most of the time, let alone feeding a child.
Meanwhile, while most women are comfortable breastfeeding in public, pumping can be way more problematic. The machine is loud and you often need an outlet to plug the machine in. Again, not something that most public bathrooms or seating areas are suited for. Enter the Mamava lactation suites.
If you're lucky, you've likely seen these lactation pods in over 450 public places around your community in the United States, according to the company. If not, here's what to expect from the Amtrak ones.
The Lactation Suite pods are "self-contained, mobile," and come with a slew of amenities like comfy benches, a fold-down table, an outlet to plug in a pump, and a door that can lock for privacy. While they are designed for one person, they can fit mothers with other babies and children in tow, too. The ones being set up for Amtrak are ADA compliant, though the Mamava product line includes smaller versions, including a blow-up one, that you might have seen around in less public places.
David Handera, Amtrak Vice President of Stations, Facilities, Properties and Accessibilities, said in a press release:
These new lactation suites demonstrate Amtrak's ongoing commitment to better accommodate the needs of our customers and their families while traveling with us. It is important for Amtrak to provide mothers with a secure, clean, dignified and private space.
It is also, by the way, Amtrak policy that mothers can breastfeed or pump on any of their trains, so if you are a commuter, know your rights. Sometimes the breastfeeding rules get lost somewhere in the chain of command, according to The Philadelphia Inquirer. Samantha Matlin, one of the Philadelphia-based mothers who began a petition for Amtrak to include a lactation suite last year, was reportedly told on a train that she could only use a handicapped bathroom to pump, according to Philly.com.
At the time, Amtrak spokesperson Kimberly D. Woods issued a statement to Philly.com saying that while there were previously no lactation facilities, women have been and always will be free to nurse. The statement read:
Amtrak respects the rights of mothers to breast feed their children on trains and in stations. Therefore, Amtrak will not ask a mother who is breast feeding to cover up nor to move from her seat. Please know Amtrak makes every effort to provide a safe and comfortable environment for all of our passengers and employees.
Much like in other public spaces, breastfeeding women face a conundrum: Being shamed for publicly, and legally, breastfeeding or pumping in public and then not having a private, clean, and useful space to feed their kid in or express milk from their achey boobs. Which is why we need more lactation suites everywhere. Sascha Mayer, co-founder and CEO of Mamava, said in a statement on Wednesday, "We're thrilled to support breastfeeding mamas at Union Station. We believe that all mamas deserve a comfortable place to use a breast pump or breastfeed distraction-free—anywhere, anytime."
She added, "Mamava pods provide flexibility for facilities and easy access for moms." They really do, and hopefully Amtrak will expand their use to more stations or even on-board. In the meantime, breastfeeding moms can use the Mamava app to track down lactation suite locations. If you really want one in your airport or stadium, the site has pre-written emails you can send to higher ups directly and ask for one, along with other resources for breastfeeding women. As the addition of the Mamava pods in Amtrak stations shows, breastfeeding moms don't have to be destined to the toilet to feed their child.