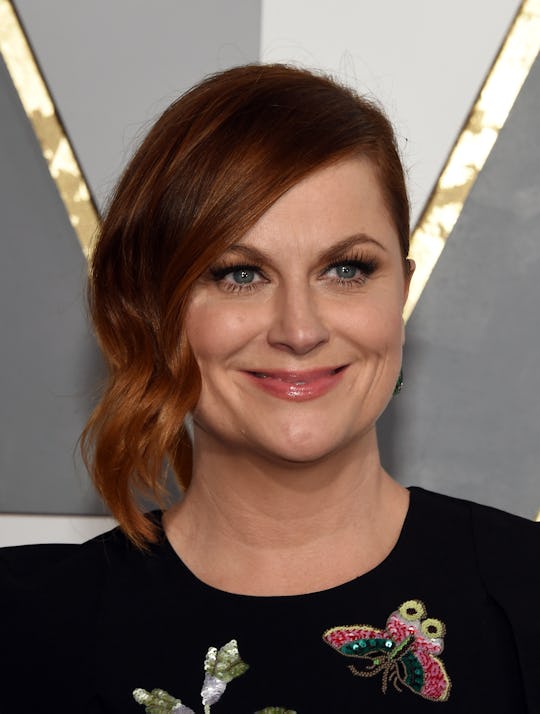 Ethan Miller/Getty Images Entertainment/Getty Images
Amy Poehler's Shoutout to 'Parks & Recreation' At The MTV Movie Awards Was Just Perfect
There was lots of love at Sunday's MTV Movie Awards, but Amy Poehler's shoutout to Parks and Rec deserves an award of it's own. While accepting the Golden Popcorn for her role as Joy in Inside Out, Poehler couldn't contain her excitement, mentioning that it was also the ninth anniversary of the first episode ever of the former NBC sitcom and joking that she was pretending she was also accepting an award for that feat, as well.
Poehler seemed genuinely surprised to have won the award for Best Virtual Performance for the Disney Pixar film. She started to thank the voters, but then stopped herself. "Did anyone vote? I don't know," she laughed. When she called out Parks and Rec, Chris Pratt, who played doofus Any Dwyer on the show, jumped to his feet and applauded. Oddly, they were the only actors from the show in attendance at this year's movie awards. Their love will never fade, obviously, as the two of them also posed for pictures on the red carpet together on Sunday causing every single lover of the sitcom to wish for just one more episode.
In fact, everyone seemed to have sitcoms on their minds. Earlier in the evening, Dwyane Johnson and Kevin Hart joked that Chris Pratt belongs in sitcoms, and they were sort of right.
This isn't Poehler's first time at the MTV Movie Awards either. In the past, she was nominated for Best Fight and Best Cameo in Anchorman 2 and Best Comedic Performance for Baby Mama. She also won in 2009, for Best WTF Moment in Baby Mama. Inside Out, though, has won more than just Golden Popcorn this year. The film took home the BAFTA, an Oscar, and a Golden Globe for Best Animated Feature. Poehler, as Joy, also won the Kid's Choice Award for her voiceover, too.
Fans loved the shoutout to Parks and Recreation. One viewer tweeted, "Amy Poehler and her little Micky Mouse shirt and shouting out Parks and Rec in her speech, I love her so much." Another tweeted that her shoutout was the best part of the show, hands down, if only because it was an excuse to pan the camera over to Pratt. Of course.
It doesn't really matter if anyone voted or not — the award was well deserved tonight. And it was made all the better — if bittersweet— that she brought some Parks and Rec love to the stage on Sunday too.