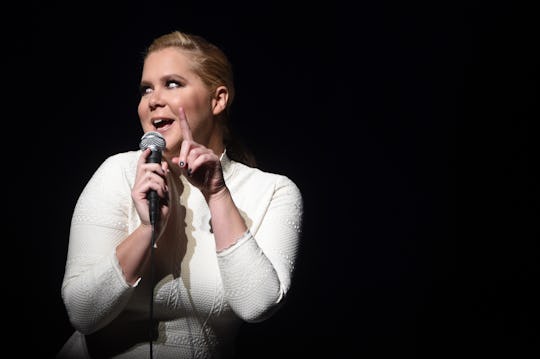 Amy Schumer Nominated For Golden Globe For 'Trainwreck' While 'Inside Amy Schumer' Gets Nothing, But It's Cool
If you're a fan (and seriously, who isn't?) you might be wondering if Amy Schumer got nominated for a Golden Globe. The good news was that Trainwreck got her a nod for Best Actress – Motion Picture, Comedy or Musical, not to mention it snagged a nomination for Best Picture – Comedy or Musical. The bad news? Inside Amy Schumer got snubbed big time, despite being clearly amazing and damn near perfect in most ways. Oh well. You can't win 'em all (literally).
There no question it's been a good year for Amy Schumer. She's broken into household name territory, and pretty much everything she touches turns to gold. We love her, because she's smart, hilarious, feminist, and not afraid to tell it like it is, however much it hurts. So yes, it's a bit of a heartbreak for us when her comedic genius isn't fully recognized by the powers that be. And hell, she had already won an Emmy for Outstanding Variety Sketch Series, earlier in the year, so we kind of thought she at least had a nomination in the bag. You wound us, Hollywood Foreign Press.
All the same, there were loads of congratulations floating around the Twitterverse this morning, and a few hilarious observations.
Indeed, I believe we did.
This is a valid point. I can't wait to see what happens myself, now.
To be fair, the competition is fierce, in the television categories. You've got the cable and the network and the streaming channels all offering up their best shows, and no sketch comedy subcategory to break things down further, like they do for the Emmys. And really, how can you compare Veep and Inside Amy Schumer? We're talking about apples and oranges, here.
So while we are thrilled to see Trainwreck get the accolades it deserves, and we sort of understand why Schumer was perhaps overlooked in the TV series category this year, it doesn't make it hurt any less. And naturally, Schumer isn't even batting an eyelash, graciously and adorably tweeting out how excited she is at the nominations.
You're a class act all the way, girl.
Image: Jamie McCarthy/Getty Images