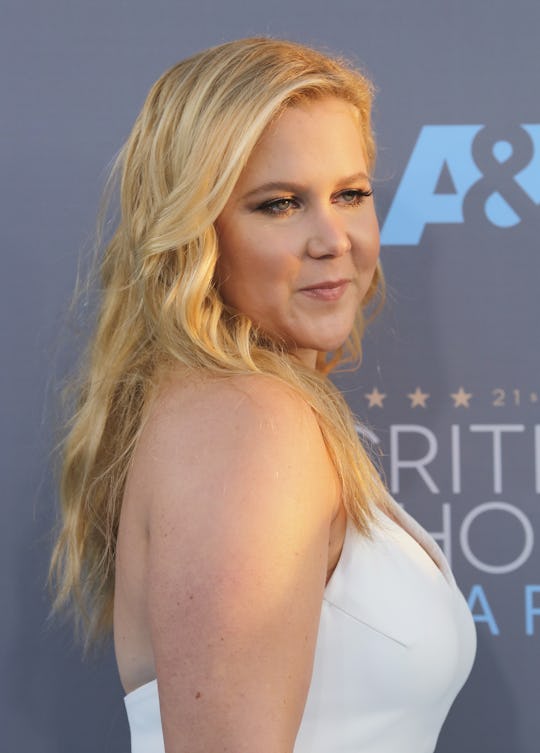 Mark Davis/Getty Images Entertainment/Getty Images
Amy Schumer Shuts Down Body-Shamers In The Best Way Possible & Wins The Internet
What is it about Amy Schumer that winds up the good old internet trolls? The comedian is funny, irreverent, happy, confident... wait, is that it? Is it her confidence that seems to set people off? Because it's something, for sure. Ever since Schumer became a household name with her show Inside Amy Schumer, girl has been stirring up some serious controversy. Which has turned out to be sort of great, actually, because Schumer recently shut down some body shamers in the best way possible... again.
When some internet "trolls" reportedly said some "unkind things" about the way Schumer looked on the Internet, the actress/comedian decided to take them down. And let's get real, guys — Schumer is whip smart, confident, and basically a professional comeback artist. Is she really the girl you want to "fat shame?" And is fat shaming still really a thing? Seriously? I know retro is in and all, but I thought that was more about shirtdresses and ankle pants, less about discrimination and misogyny. Luckily, Amy Schumer is out there representing. In response to the most recent slew of nasty comments about her physical appearance, Schumer posted the photo of herself in a bathing suit on her Instagram, with the caption,
I meant to write "good morning trolls!" I hope you find some joy in your lives today in a human interaction and not just in writing unkind things to a stranger you've never met who triggers something in you that makes you feel powerless and alone. This is how I look. I feel happy. I think I look strong and healthy and also like miss trunchbull from Matilda. Kisses!
Boom, mic drop, Schumer wins the internet. She even posted what looks to be a fairly regular photo of herself, not some glam shot. Because she slays.
This isn't the first time Schumer has gone after body shamers, either. In April, Schumer went after Glamour magazine for including her in a special "plus-size" edition of the magazine without her permission. "Not cool," she tweeted in response. While Schumer clearly has no issue with plus-size models, she's not necessarily "plus-size" herself (are we still trying to divide up women based on their size anyway? I thought that was over). Schumer said she worried that classifying someone of her size (between a size 6 and 8) as being a "plus" could be damaging to young girls, and that she would prefer to get rid of the harmful label altogether.
Schumer was also included (with her permission this time around) in the annual Pirelli calendar. She was photographed in her underwear by famed photographer Annie Liebowitz, along with Serena Williams and others.
While it is amazing that Schumer consistently, eloquently fires back at body shamers, the real question might be, Why does she have to? Her job is not to be fat, thin, beautiful, or otherwise. Her job is to be funny, to write topical scripts and act them out for Inside Amy Schumer, to write and create projects like the blockbuster movie Trainwreck. She is a lovely woman, but that's not really the point. In fact, I've always sort of hated that point. Like, oh no, this one is too pretty to be shamed for her looks. Let's go find an uglier version.
It's time to dispense with the labels, y'all. Like the acid wash jeans that should simply never make a comeback, labels are so out of style.
Just ask Amy Schumer.