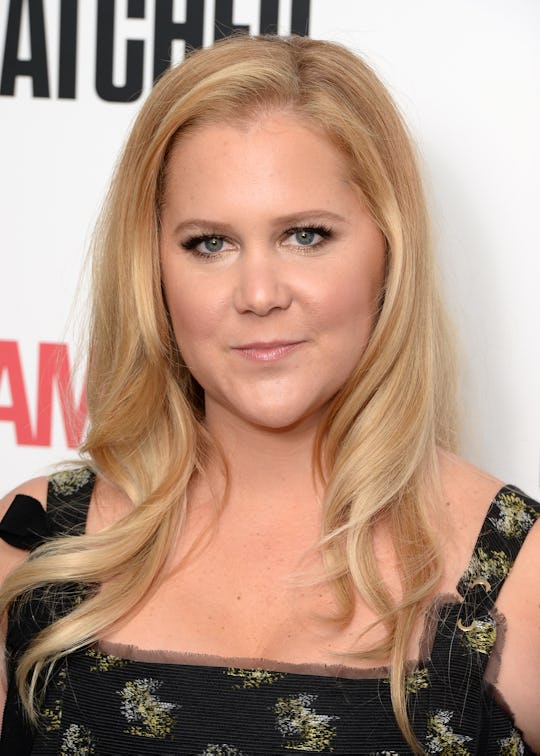 Eamonn M. McCormack/Getty Images Entertainment/Getty Images
Amy Schumer Joked She Already Had Her Baby & Poked Fun At Meghan Markle (Again) — PHOTO
This month, there were two royal baby announcements, and come next spring, the world will meet the prince or princess of Sussex and the prince or princess of comedy. That's right, just days after Prince Harry and Meghan Markle announced that they're expecting, Amy Schumer also shared with fans that her first child is also on the way. But true to form, Amy Schumer's joke that she already had her baby poked fun at Meghan Markle yet again, and TBH, I'm very here for it.
Yesterday on her Instagram Story, Schumer uploaded a photo of herself cuddling a tiny baby — presumably belonging to a friend or sibling. This time, however, she took the opportunity to compare her own pregnancy to Markle's once again, saying: "Already had the baby. Took me less than 4 months. Let's see Meghan do that sh*t."
This isn't the first time that Schumer's used Markle's pregnancy on social media. In fact, when she announced that she was expecting on Monday, she did so by posting a photo of herself photoshopped over an image of Markle's face, as People reported. (Markle announced that she was expecting on Oct. 15, after much speculation over the past couple of months.)
Then, earlier this week, Schumer also posted another hilarious photo of herself topless, from behind, leaning over a toilet bowl, presumably throwing up/ after some morning sickness.
"Today, Markle is in [Fiji]," she wrote over the photo. "#Same."
When Schumer first broke the news about her pregnancy, she did so with a political move, which was as creative as it was telling of her acumen as an activist. After Schumer posted the photo of herself atop Markle's head on Instagram, she then redirected followers to her friend Jessica Yellin's page. On there, Yellin posted a series of Senate candidates that she and Schumer support, and would encourage fans to vote for. At the very bottom of the list, it read: "I'm pregnant — Amy Schumer," as Vulture reported.
Of course, it was an important move not only because the midterm elections are coming up in a few short weeks, but also because Schumer understands that her pregnancy announcement would receive a lot of attention. Combining the two was pretty selfless, and proves that the comedian knows when it's time to joke, and she also knows when it's time to get serious — and about what.
For those who are fans of Schumer, however, the move shouldn't come as a total surprise, as it's not the first time she's alluded to pregnancy using politics as a vehicle.
In 2017, Schumer announced that she married now-husband Chris Fischer, as The Independent reported, a move that, given the timeline (they were only dating a few months) sparked many pregnancy rumors — unfair as they may be.
However, in February, Schumer cleared up any confusion regarding her then non-existent pregnancy, once again tying it to a social or political call-to-action. Schumer posted a note to Instagram on which she said: "2 things: No, I'm not pregnant. And no gifts, but thank you for asking. Instead, please consider a donation to Every Town for Gun Safety. Thought of Mayce and Jillian a lot yesterday, and sending love to everyone who has been affected by gun violence."
Previously, Schumer joked about having a baby on The Ellen DeGeneres Show, telling the host: "I have never wanted kids... Then I saw myself as a baby on your show and I thought, 'Who am I to deprive the world of such a beautiful baby?'"
Kidding aside, it seems that Schumer's dreams are finally coming true. For fans and followers, she's an inspiration as someone who knows what to take seriously (and that certainly isn't always herself). TBH, it's pretty refreshing.