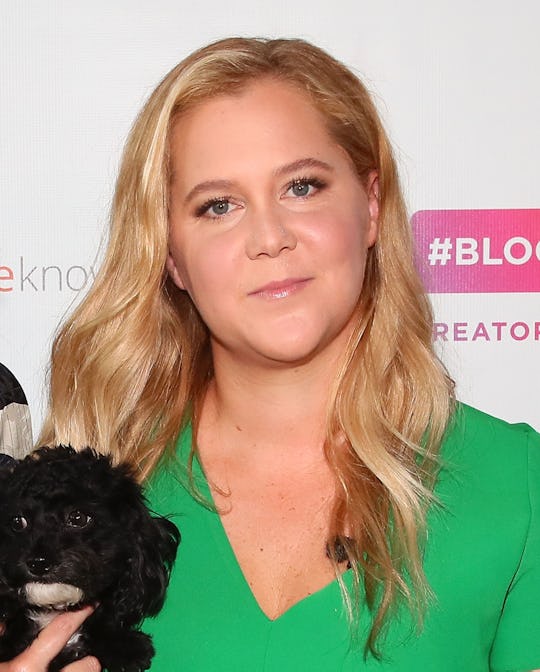 Astrid Stawiarz/Getty Images Entertainment/Getty Images
Amy Schumer Shares A Hilarious Morning Sickness Photo, & We're Cracking Up
You may already know that on Monday, comedian and actress Amy Schumer announced that she and her husband Chris Fischer are expecting their first child together. But what you may not know is that she's basically parodying Meghan Markle's pregnancy while welcoming fans into the wild world of morning sickness, pregnancy announcements, and so much more on her social media. In one such example, Amy Schumer's post-morning sickness photo hilariously channels the Duchess of Sussex, again, and her far more royal pregnancy, and you've really just got to see it to understand it.
Jessica Yellin of News Not Noise announced Schumer's her pregnancy through Instagram Stories, according to People. Following a list of Schumer's recommended congressional and gubernatorial candidates, Instagram users saw the line "I'm pregnant-Amy Schumer," which was apparently her silly way of letting the world know she's expecting. What else can we really expect of the acclaimed comedian, really?
The same day, Schumer teased the news on her own Instagram account by posting a photo of royal couple and expectant parents Prince Harry and Markle, photoshopped with her head on Markle's body and Fischer's on Prince Harry's. In the caption, Schumer wrote in part, "About to announce some exciting news on @jessicayellin insta page," directing fans to check out the big news there instead.
And so far, Schumer is sticking with her theme of parodying Markle's pregnancy every step of the way.
On Tuesday, the Duchess of Sussex was seen out and about in Fiji with Prince Harry, as the two of them are in the middle of a royal tour of several countries at the moment. Not to be outdone, Schumer updated her fans and followers with news of her own pregnancy, and posted the hilarious photo above to her Instagram Story the same day.
"Today Markle is in Figi #same," Schumer captioned the Instagram photo. "Milf alert," she added at the bottom of the shot. Poor Schumer seems to be over a toilet in the photo, implying that she's is dealing with one of the rougher aspects of pregnancy: morning sickness.
And it's not as if Schumer just decided to run with the "copy Meghan Markle" theme in Instagram photos when she chose to made that second post. She actually told The Los Angeles Times in a statement about her pregnancy:
Chris and I are thrilled and almost positive he's the father. I look forward to competing with Markle every step of the way.
So it sounds like this is just the start to a long line of hilarious comparisons Schumer is going to make between her pregnancy and Markle's as they both continue preparing to be moms.
In April, Schumer appeared on The Ellen DeGeneres Show and revealed that she had started to rethink whether she wanted children. According to People, Schumer joked:
I have never wanted kids. Then I saw myself as a baby on your show and I thought, "Who am I to deprive the world of such a beautiful baby?"
At the time, Schumer said she wasn't pregnant. But she and Fischer must have seriously discussed the idea, and now the couple seems more than happy to be expecting for the first time.
And if Schumer wants to keep playing around with the scrutiny Markle will likely face as a pregnant royal in the public eye as part of her own pregnancy experience, I say, all power to her. I think we could all use the laugh.