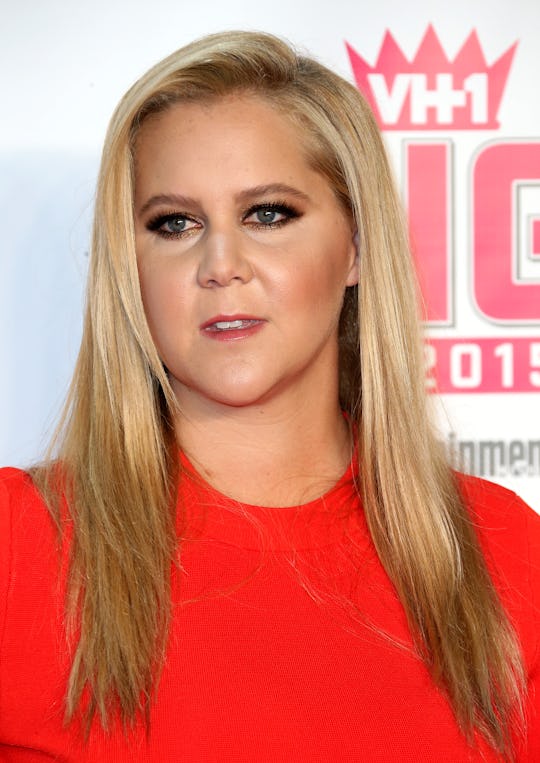 Frederick M. Brown/Getty Images Entertainment/Getty Images
Amy Schumer's 'Nude' Selfie Actually Has An Important Message
Leave it to Amy Schumer. Honestly, we should maybe just leave everything to Amy Schumer. The girl is fearless, and clever, and always just the teeniest step ahead of the rest of us. When some of us are stressing about our beach bods, she shares a very real, very normal swimsuit pic on Instagram to silence body shamers. And when everyone else is doing nude selfies just for fun, Schumer's "nude" selfie is actually delivering a fairly important message. Because why not kill two birds with one stone, right?
Schumer always seems to be in the news these days. Whether she's killing it on her Comedy Central series, Inside Amy Schumer, with skits about anything from the white girl definition of "the universe" with Bill Nye The Science Guy, or getting together with comedy greats like Julia Louis-Dreyfuss and Tina Fey to blow the lid off sexist ageism in Hollywood (in the skit "Last F-able Day," which I've watched about 30 times and lost my mind laughing over every single time), Schumer has her finger on all the pulses, all the time. So when she decided to share a semi-nude selfie on her Instagram on Thursday, basically nobody should have been surprised that there was a message behind the hype.
(A little warning of course: The below picture is very NSFW... scroll at your own peril.)
Schumer wrote the caption, "Today please #WearOrange for gun safety". Hence the orange sports bra. She then posted a few more pics of herself with friends wearing orange, but girl knew what she was doing. The nude selfie would get noticed, and she isn't above using media hype to spread an important message concerning National Gun Violence Awareness Day.
According to the Wear Orange website, the campaign was created after a 15-year-old girl named Hadiya Pendleton was shot and killed one week after marching in President Obama's second inaugural parade. Her friends chose to wear orange in memoriam, because hunters wear orange to protect themselves in the forest.
In the wake of Wednesday's murder/suicide at the UCLA campus (as well as another victim found dead in Minnesota), #wearorange seems especially prescient.
Schumer wasn't the only celebrity to #wearorange in support of gun safety either:
Schumer has a very personal reason to devote herself to ending gun violence. During a screening of her movie Trainwreck in July 2015, two women (Mayci Breaux and Jillian Johnson) were shot and killed by a "drifter" named John Russell Houser.
Clearly, their deaths had a huge impact on Schumer. She captioned the above photo, "Me and my honeys on set like to #wearorange thinking of you today and every day Mayci and Jillian."
So for those who doubt Schumer's motives when she posted her semi-nude selfie... let's all just wear orange and keep our eye on the prize, shall we?
Let's end gun violence. Like, right now.