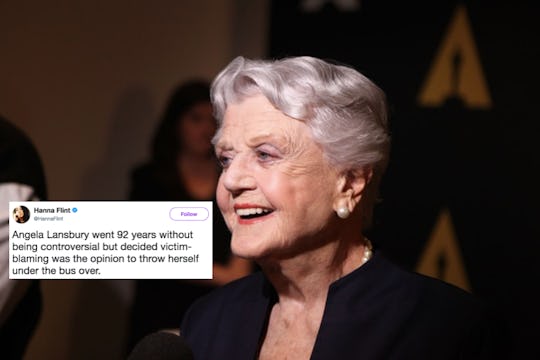 Matt Winkelmeyer/Getty Images Entertainment/Getty Images & @HannaFlint/Twitter
Twitter Slams Angela Lansbury For Saying Women "Must Sometimes Take Blame" For Harassment
I won't lie to you; when I went to check Twitter and saw that Angela Lansbury was trending, I immediately thought, Uh oh. I'm not going to say exactly why I thought the 92-year-old Murder She Wrote actress was trending... but you know what I was thinking. And then I delved into the story and found out that Lansbury reportedly said that women should take some of the "blame" for sexual harassment, and again I thought. Uh oh.
The legendary actress and voice of Mrs. Potts from Beauty And The Beast was being interviewed by Radio Times on Tuesday when the subject of sexual harassment came up. And Lansbury has some opinions on the epidemic of sexual harassment allegations and accusations of abuse that are finally coming to light, particularly in the entertainment industry. Lansbury told Radio Times:
There are two sides to this coin. We have to own up to the fact that women, since time immemorial, have gone out of their way to make themselves attractive. And unfortunately it has backfired on us — and this is where we are today.
She went on to say:
We must sometimes take blame, women. I really do think that. Although it's awful to say we can't make ourselves look as attractive as possible without being knocked down and raped.
Romper has reached out to Lansbury's rep for comment on the her remarks and but did not immediately hear back.
Landsbury did qualify, however, that women shouldn't be expected to be prepared for this sort of behavior, telling the program: "Should women be prepared for this? No, they shouldn't have to be. There's no excuse for that. And I think it will stop now — it will have to. I think a lot of men must be very worried at this point."
This sort of comment is massively problematic. Over the past few months, ever since The New York Times published an article naming former Miramax head Harvey Weinstein as an alleged serial sexual predator, dozens of stories have come to light. About women (and in some cases, men) suffering sexual harassment, abuse, and even rape, without ever feeling as though they could come forward. It has been an emotionally-charged, difficult time for the victims who have come forward, and for the first time in living memory it seems as though women were standing up together and insisting that the world must believe women. And this has long been a struggle for women — to quote Lansbury — since "time immemorial."
So you can see why the internet has some pretty strong feelings about Lansbury's victim-blaming stance.
Actress Patricia Arquette called out Lansbury's assertion that women making themselves more attractive are somehow to shoulder some of the blame for sexual harassment.
Not everyone was ready to through in the towel on Lansbury, however.
There were thousands of tweets about Lansbury, many frustrated by what people felt was her insensitivity. But author Laura Waddell pointed to a different, devastating possible reason for Lansbury's disturbingly misguided opinion:
The reality is, victim-blaming was the status quo for countless generations. Women have historically been expected to either shoulder the blame for sexual harassment, or expected to suffer in silence, according to The Week. According to RAINN, out of every 1,000 sexual perpetrators, 994 walk free. What's more, two out of every three sexual assault cases go unreported, and the second most common reason for this was reportedly because women did not think the police would believe them.
No one knows what sort of experiences Lansbury herself might have suffered through, what she was expected to keep silent, or what she had to endure.
The fact that she continues to blame women for any unwanted attention is further proof that change needs to happen. That far too many generations of women were afraid, harassed, minimized, controlled, and abused. That the sort of mental conditioning women were forced to accept was so common, so pervasive, that even after all these years it has stayed firmly entrenched... it's utterly heartbreaking. And it has to end now.