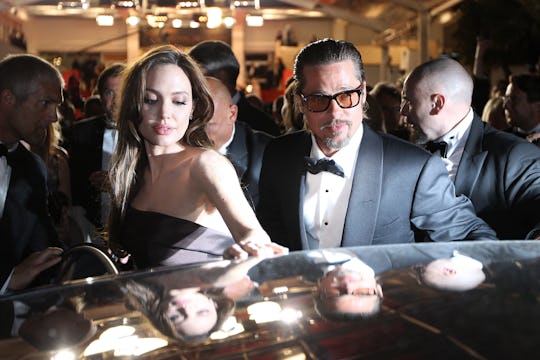 VALERY HACHE/AFP/Getty Images
Angelina Jolie & Brad Pitt Divorce Memes Prove The Internet Can't Let This Go
That explosion you just heard was the internet imploding. On Tuesday morning, TMZ reported that after two years of marriage, Angelina Jolie has filed for divorce from Brad Pitt. Understandably, the internet is having a collective freak out with Angelina Jolie and Brad Pitt divorce memes that show the impact this couple had on not only Hollywood, but the whole world.
After TMZ broke the news, other outlets began reporting that Jolie had filed for divorce with USA Today reaching out to an attorney for Jolie, Robert Offer. In a statement to USA Today, Offer wrote, "this decision was made for the health of the family. She will not be commenting at this time, and asks that the family be given their privacy during this difficult time."
In a statement to People, Pitt spoke of the divorce with deep sadness saying, "I am very saddened by this, but what matters most now is the well being of our kids. I kindly ask the press to give them the space they deserve during this challenging time." (Romper reached out to publicists and attorneys for both Jolie and Pitt, but have yet to hear back.)
While the details of the divorce are seemingly normal, CNN noted that plenty of speculation has already started about a custody battle ensuing.
It makes sense that the rumor mill starts churning when Brangelina is mentioned. Who could forget the sensational start of their relationship when they met on the set of Mr. and Mrs. Smith back in 2003, according to People. Although the two denied rumors of infidelity, it didn't take long after Pitt's divorce from Aniston for the actor to tell Rolling Stone that he fell in love while filming the movie, noted USA Today.
Regardless of how the couple's relationship began, it's been 12 years since the world first realized that Brad and Angelina could be some kind of item, so it makes sense that the internet is collectively exploding. I think everyone hoped this would be the celebrity couple that would make it. It's easier to accept infidelity when it turns out to be true love rather than a lust-driven relationship bound to crash and burn, right? But the end of their relationship is bringing up plenty of speculation about what it really means to be the other woman, how that affects your relationship, and if any marriage or partnership can survive with such a rocky beginning.
I think it's even harder to comprehend how this divorce could happen when the two have seemed so in love after all these years. CNN noted that the couple married in 2014, but the year before that, Pitt had been by Jolie's side as she underwent a double mastectomy in a preventative effort to reduce her risk of breast cancer and USA Today commented that Pitt had called his wife, "his hero".
No matter how you feel about the situation, whether you are issuing an "I told you so" or weeping as you watch E!, you'll find some solace in the Angelina Jolie and Brad Pitt divorce memes surfacing on the internet. I mean, you can always count on the internet, right?
Some seem to be commentary on how big the news is and how everyone around the world is reacting.
And of course, some are focusing more on Jennifer Aniston and how she feels about the situation.
Despite the humor found on the internet, the important thing to remember here is that there are six children affected by this divorce and they deserve the same privacy and compassion anybody else does. Jolie and Pitt may have been major superstars, but they're real people. And just like anything else on the internet, tomorrow it'll find something else to make a meme or two about. (OK, it might take longer than tomorrow.)