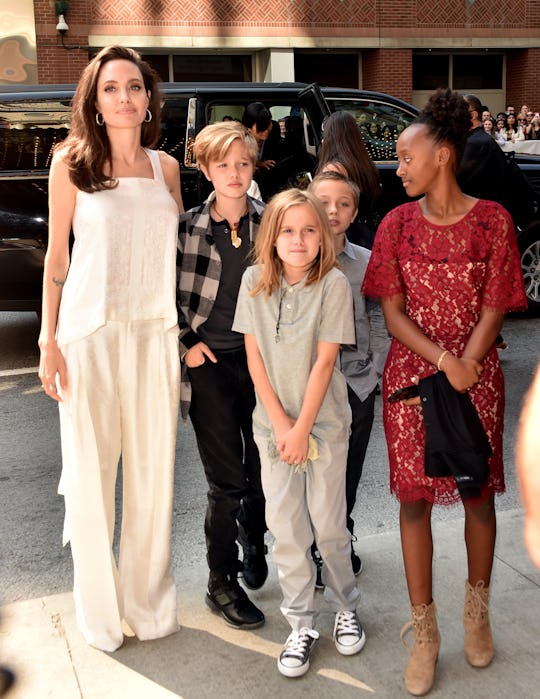 Alberto E. Rodriguez/Getty Images Entertainment/Getty Images
Angelina Jolie Could Reportedly Lose Temporary Custody Of Her Kids, & Here's Why
There was a time when Angelina Jolie and Brad Pitt's family seemed like an extravagant, well-earned dream. They had six lovely children and traveled the world with the entire brood in tow on a regular basis. They owned a chateau and vineyard in France, and of course they were famous movie stars and thoughtful humanitarians to cap it all off. And while it's sad that Jolie and Pitt separated two years ago, it seemed like life was going on for Jolie and the kids. Until recently, at least. New reports have been released that Angelina Jolie could lose temporary custody of her kids, and the reason is extremely unfortunate.
The couple was raising six children together, 16-year-old son Maddox, 14-year-old son Pax, 13-year-old daughter Zahara, 12-year-old daughter Shiloh, and 9-year old twins Vivienne and Knox, prior to their split in September 2016. At the time, Jolie filed for divorce citing irreconcilable differences and sought primary custody of the six children while allowing Pitt visitation, but things got acrimonious quickly and stayed that way. A judge stepped in to outline a summer schedule for visitation between Pitt and the children to help them rebuild their relationship, according to court papers first shared by The Blast. The court documents were confirmed by Us Weekly.
A spokesperson for Angelina Jolie told Romper via email on Wednesday:
This misleading leak is not in the best interests of the children. From the start, Angelina has been focused only on their health and needs, which is why it was so important that this last court hearing be conducted privately. It's deplorable that someone, for their own selfish reasons, leaked selective portions of the confidential and sealed court record to create an inaccurate and unfair picture of what is really happening.
According to the court documents, five of the six children are to spend the summer dividing their time between Pitt's home in Los Angeles and Jolie's rented home in London. Their oldest son, Maddox, is not included in the custody agreement since he is already 16 years old and legally allowed to make his own decisions about how much time he spends with his father. Jolie is also expected to provide each of the children with cell phones so they can have unrestricted communication with Pitt, and she is not allowed to check their text messages with him. Jolie is also expected by the court to tell her children that "they are safe with their father," and that the "court has determined that not having a relationship with their father is harmful to them," according to People.
When the couple initially separated, Jolie accused Pitt of verbal abuse which had the L.A. County Department of Children and Family Services investigating him. The instance reportedly happened on a private plane when the Oceans 11 actor was allegedly intoxicated and "verbally abusive" to his oldest son Maddox. The FBI also got involved, but the charges were dismissed by November 2016, according to Refinery 29. Pitt reunited with his kids by October, and People reported at the time that the whole family was going through therapy. A representative for Pitt has not responded to Romper's request for comment.
Since then, the children have been living primarily with their mother. But a California judge reportedly told Jolie that she needs to encourage her children to re-establish their relationship with their father if she hopes to continue the custody arrangement, as reported by Us Weekly:
If the minor children remain closed down to their father and depending on the circumstances surrounding this condition, it may result in a reduction of the time they spend with [Jolie] and may result in the Court ordering primary physical custody to [Pitt].
It's difficult to know what has gone on privately between the two parents and their children, so hopefully there won't be a bunch of chatter on social media about how Jolie must be keeping the children from their father. Nobody knows that for sure. As a child of divorce I can tell you, kids don't need a parent telling them to get angry and confused; they get upset on their own.
So before anyone jumps on the judgment band wagon, please. Don't bother, ok? Let's just hope they figure it out soon and the kids are doing alright.
Editor's note: This article has been updated with a comment from a spokesperson for Angelina Jolie.