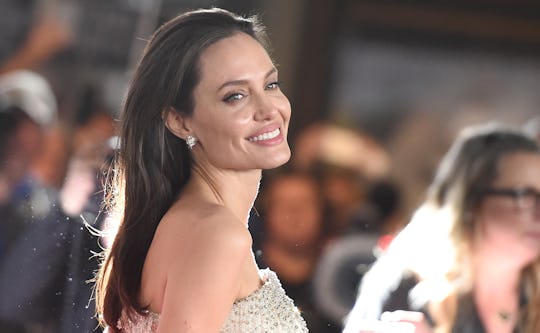 Jason Merritt/Getty Images Entertainment/Getty Images
Angelina Jolie Opens Up About Missing Her Mom
Angelina Jolie has had a life-altering year. She and ex-husband Brad Pitt have separated after 11 years and six children together. She has had to navigate the choppy waters of public scandal, reported tension within her family, and learning to be a single mother. And, as the actress told Elle France in a recent interview, it's been tough. Jolie opened up about missing her mom to the news outlet, and reminded people that you're never too old to really just need your mom in your corner.
Jolie's mother, French-American actress and humanitarian Marcheline Bertrand, died in 2007 after an eight-year battle with ovarian cancer. Bertrand was only 56 years old when she died. She raised Jolie and her brother, James Haven, on her own after her divorce from actor Jon Voight in 1980. In the years since her mother's passing, Jolie has found her parenting style influenced by the way her mother raised her. She also finds herself needing her mom more often these days, especially when she is seeking guidance, as she told Elle France:
I would give anything for [Bertrand] to be with me at this time. I've needed her. I talk to her often in my mind and try to think what she might say and how she might guide me.
The By The Sea actress doesn't just miss her mother for herself: she misses the sort of grandmother she believes she would have been to her six children (Maddox, 15, Pax, 13, Zahara, 12, Shiloh, 12, and twins Vivienne and Knox, 8). She said Bertrand would have "thrived as a grandmother,"
I know how much she would have contributed to their lives and I am sad they will miss out on that.
In the years since her mother died, Jolie has taken great lengths to honor her memory in heartfelt ways. When she married Pitt at Chateau Miraval, the Pitt-Jolie family estate in France, she reportedly chose the location as a nod to her mother's French heritage. She carried a locket with her mother's picture in it, according to The Daily Mail, as she walked down the aisle. Bertrand's battle with cancer was allegedly the reason behind Jolie's own decision to have an elective double mastectomy in 2013 to drastically reduce her chances of breast cancer.
It is a heartbreaking thing, to lose your mother just as you're becoming a mother yourself. All anyone can do, including Jolie, is try to parent as best they can within that loss. When asked about what sort of influence her mother's parenting had on the way she raises her kids, Jolie told Elle France:
I try to lead by example, being conscious of others and being responsible, and to help them have a broader view of the world. But really the only way I know to raise them is to really listen. It's perhaps the most important thing any parent can do. They are resilient children but they are children, and as much as they need help to understand the hard truths in life, they also need what we all need — protection and love.
Her mother isn't with her physically, but it's clear that she is in so many other ways.