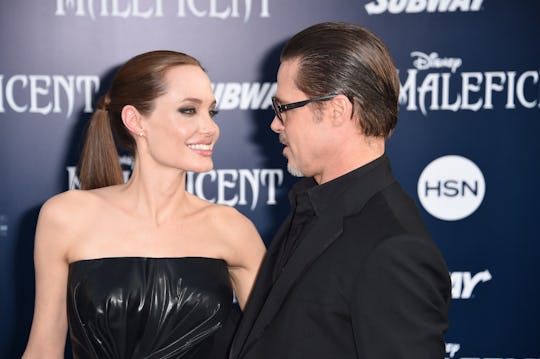 ROBYN BECK/AFP/Getty Images
Angelina Jolie Quotes About Brad Pitt's Parenting Style Don't Include Any Criticism
Angelina Jolie and Brad Pitt are divorcing, TMZ reported Tuesday, and Jolie is filing for sole physical custody of their six kids. Why? The reason, according to TMZ's unnamed sources, is allegedly that she has strong objections to Pitt's parenting style. It's surprising news, both because the family is so often see together and because Pitt has been so vocal about how much he loves fatherhood. But do Angelina Jolie quotes about Brad Pitt's parenting style tell a different story?
Romper reached out to both parties' representatives for comment but did not immediately hear back. In a statement to People Tuesday, Pitt said,
I am very saddened by this, but what matters most now is the well being of our kids. I kindly ask the press to give them the space they deserve during this challenging time.
Jolie and Pitt have been parenting together almost since they met in 2004. According to People and US Weekly, Jolie adopted their oldest children, Maddox and Zahara, in 2002 and 2005, respectively. Pitt adopted them in 2006, the same year the couple gave birth to their daughter Shiloh, their first biological child. Jolie then adopted Pax in 2007 (Pitt adopted him in 2008), and Jolie gave birth to their twins, Vivienne and Knox, in 2008.
Pitt has talked about how much he enjoys fatherhood in many, many interviews, but Jolie hasn't talked as much about her impressions of him as a father. However, Jolie did call Pitt a "great, loving father" in a 2011 interview with People. She went on, "Brad is such a great dad. When I'm working, he's putting in the extra dad time." Back in 2006, Jolie also said Pitt was a great dad in a Vogue interview.
So while Jolie has not been super vocal about Pitt's parenting, her statements to the media, at least, reflect positive feelings about his approach to fatherhood.
Pitt has been much more open in the press about himself as a father. In 2015 he told UK-based Psychologies magazine,
Being a father has changed me on so many levels and made me more generous and alive. I see my children as an essential part of my life, and it means so much to be able to educate them and help them make their way in the world as they grow up. I love being a father and all the responsibilities that entails.
He continued:
I care about them more than I care about myself, which I think is the real definition of love. You see past yourself and become more generous and giving, and wanting only the best for your family.
Since neither Jolie nor Pitt's reps have confirmed the motivation behind the divorce or commented on Jolie's custody request, many details are still unknown, and many likely always will be, because they're no one else's business. Hopefully, though, Jolie and Pitt's kids will be comfortable with the outcome, since they're the most impacted of all.
More to come...