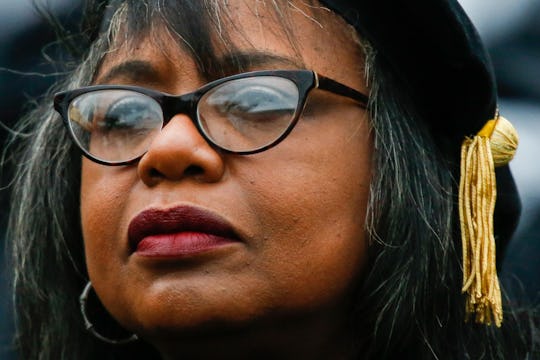 Eduardo Munoz Alvarez/Getty Images News/Getty Images
Anita Hill Wants The Senate To "Do Better" For Sexual Assault Victims
I was still a young girl when Anita Hill made headlines around the world after she accused Supreme Court Justice nominee Clarence Thomas of sexual harassment in 1991. I remember the way people talked about her, even in my own small community. Even women I knew, women I always considered feminists. The whispers, the insinuations. The tired old trope of "women wanting attention" that wasn't tired back then, it was just the way the world looked at sexual harassment. We've come a long way since then... but apparently not long enough. In a recent op-ed for The New York Times, Anita Hill wrote that she expects the Senate to "do better" by sexual harassment victims than they did all those years ago. And it's about time people pay attention to what she has to say.
Hill alleged that she was sexually harassed by Clarence Thomas while working under him at the Department of Education and the EEOC. When Thomas was nominated to take over former Supreme Court Justice Thurgood Marshall by President George Bush, Hill's allegations became public knowledge when she was asked by the Senate Judiciary Committee (14 white men) to testify about the incidents, according to CNN.
She was put on trial just as much as Thomas was because of her allegations, and Thomas was ultimately sworn in as a Supreme Court justice, according to NPR. It was not exactly a shining moment for women's rights.
Hill is a former civil rights attorney and currently works as a professor of social policy, women's studies, and law at Brandeis' University. Despite that harrowing experience, Hill has gone on to build a life outside that infamous trial. But that doesn't mean she's forgotten. Or that she has any intention of allowing history to repeat itself.
So when Supreme Court justice nominee Brett Kavanaugh recently had sexual assault charges levied against him by Professor Christine Blasey Ford (allegations which Kavanaugh has denied, according to CBS News), Hill wanted to see that the same mistakes were not made again.
In an op-ed piece Hill wrote for The New York Times, she urged the Senate Judiciary Committee (where several senators still remain from her time in front of the committee in 1991) to "do better," writing:
There is no way to redo 1991, but there are ways to do better... The facts underlying Christine Blasey Ford's claim of being sexually assaulted by a young Brett Kavanaugh will continue to be revealed as confirmation proceedings unfold. Yet it's impossible to miss the parallels between the Kavanaugh confirmation hearing of 2018 and the 1991 confirmation hearing for Justice Clarence Thomas. In 1991, the Senate Judiciary Committee had an opportunity to demonstrate its appreciation for both the seriousness of sexual harassment claims and the need for public confidence in the character of a nominee to the Supreme Court. It failed on both counts.
Fortunately for the Senate Judiciary Committee, Hill has some thoughts about how they should move forward despite the fact that they don't have a "protocol for vetting sexual harassment and assault claims that surface during a confirmation hearing," according to The Hollywood Reporter. Hill's suggestions?
Seek out a neutral investigative committee to look into sexual misconduct allegations and present their findings to the Senate
Don't rush through the hearings
Don't refer to Professor Ford as "Kavanaugh's accuser." Because, as Hill noted in her New York Times op-ed, "She deserves the respect of being addressed and treated as a whole person."
So much has changed since Anita Hill stood in front of the Senate Judiciary Committee in 1991. Because of the #MeToo movement over the past two years, there is simply no longer room for senators who just "don't get it," as Hill wrote. The Senate Judiciary Committee has an opportunity here to try to make things right. To take sexual misconduct allegations seriously.
To avoid more whispered accusations to be levied against women for simply coming forward. It's not 1991 anymore.