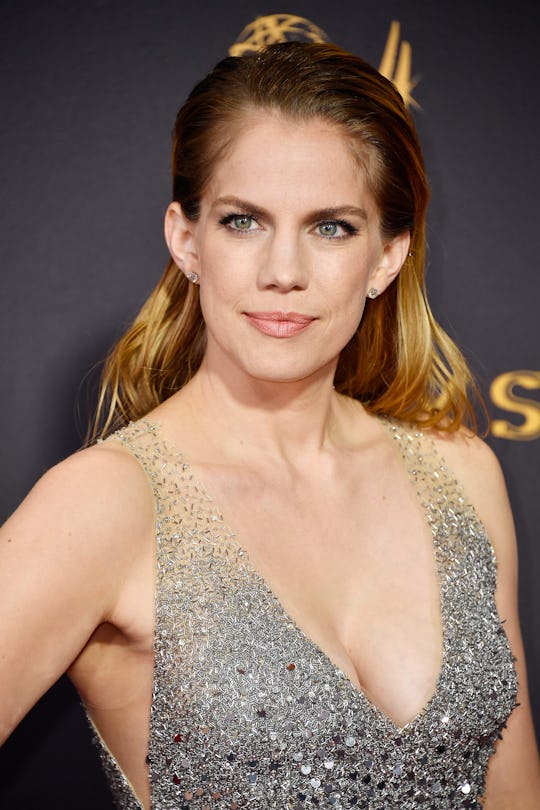 Frazer Harrison/Getty Images Entertainment/Getty Images
Anna Chlumsky's Reactions At The 2017 Emmys Stole The Show
There was a lot going on at the 2017 Emmy Awards. Former White House press secretary Sean Spicer made a rather surprising cameo. And history was made when "Master of None" star Lena Waithe became the first black woman to win an Emmy for comedy writing. And, of course, there was Veep's Anna Chlumsky's reactions at the Emmys — and Twitter, as usual, just couldn't help itself and had a bit of fun with them.
It all started when Sean Spicer — yes, President Donald Trump's former White House press secretary — appeared from behind a moving podium, just as actress Melissa McCarthy had done on many, many occasions while doing her now notable impression on Saturday Night Live. The camera quickly panned to Chlumsky as her jaw nearly dropped to the floor and she turned around to see who else was just as shocked as she was. It's a shame she couldn't see the millions of people watching at home, because she was literally all of us at that moment.
And well, because she had such an expressive reaction, Twitter decided to do what the internet does and turned Chlumsky's Emmy reactions into even more memorable GIFs that'll be shared for months and years to come.
As Daniel Fienberg, television critic for The Hollywood Reporter wrote on Twitter, "Welcome to gif-dom, Anna Chlumsky."
And that's exactly what Twitter did. But, let's back up and have a look at why Twitter decided to have such a blast with Chlumsky's expressions.
There was this epic reaction:
And this one:
And this shot that perfectly captured the moment:
Oh, of course, this epic high-five that anyone in her position would do for their co-star:
And this priceless "woot" that every mother has chanted at their child's baseball games, ballet performances, or piano recitals:
Yeah, the general consensus was that Chlumsky was having the time of her life at the 2017 Emmy Awards — that's hard to deny:
So, in order to keep up with those good vibes, the internet also decided to have a ball on the historic night. And going forward, if there is a jaw-dropping situation — like Spicer's cameo — it's pretty clear that Chlumsky's reaction will, yes, be all of us and be the go-to GIF for such an occasion.
While Chlumsky's reactions were obviously what viewers at home will remember for years to come, the talented star was nominated for best supporting actress in a comedy series for her role as Amy Brookheimer on the hit HBO series Veep.
"I'm enjoying being invited to the party once again," she said, according to Entertainment Weekly.
Although Chlumsky didn't go home with an Emmy this year — she's been nominated for the same role since 2013, according to the Television Academy — Veep made history yet again when Julia Louis-Dreyfus won the best actress in a comedy category for the sixth year in a row, as Vanity Fair reported.
"This is and continues to be the role of a lifetime and an adventure of utter utter joy," she said in her acceptance speech, according to CNN.
Chlumsky may not have won an Emmy this year for the final season of Veep, but she definitely stole the show. And given her incredible performances over the years, this is hardly the last time she'll be nominated for her work as an actress.
But the real takeaway here is that awards shows come and go, but the internet is forever — and there's no way that her reactions are going anywhere anytime soon.
Watch Romper's new video series, Romper's Doula Diaries:
Check out the entire Romper's Doula Diaries series and other videos on Facebook and the Bustle app across Apple TV, Roku, and Amazon Fire TV.