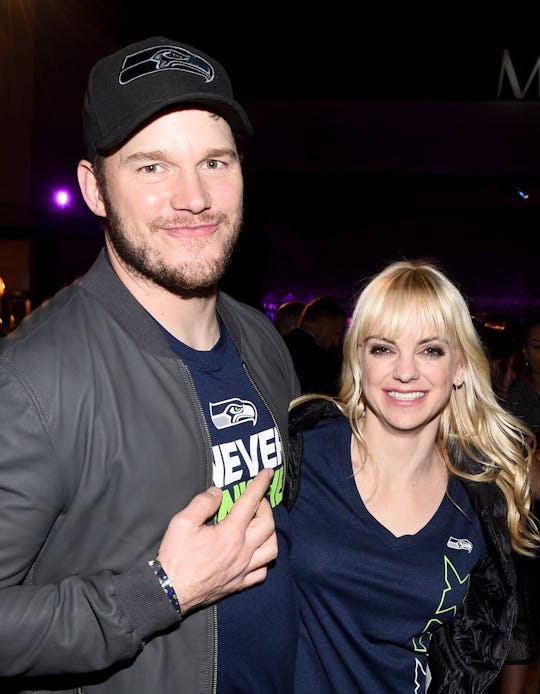 Michael Buckner/Getty Images Entertainment/Getty Images
Anna Faris Opens Up About Her Marriage With Chris Pratt & Insecurities She's Faced
I guess I'm supposed to say cheating rumors are just par for the course for Hollywood marriages. That it's the nature of the beast, the price you have to pay if you want the fame and fortune of being a big Hollywood actress. Sorry, but no. When Mom actress Anna Faris opened up about husband Chris Pratt's cheating rumors, I genuinely felt awful for her. Because it doesn't matter how famous you are, if people are talking about your husband cheating on you it sucks in a million different ways.
Faris, who turned 40 on Friday, opened up to actress Ilsa Fisher on her podcast Anna Faris Is Unqualified about some recent rumors swirling around the internet that her husband, Jurassic World actor Chris Pratt, has been cheating on her. Faris told Fisher:
We grapple with the idea of being a public couple. For the first time, maybe a year ago or 10 months ago, we were in the public a little bit. There were some tabloid rumors about strain on our relationship. I just remember feeling so hurt in a way that bothered me because I didn't want to think of myself as somebody that could be affected by tabloid s**t. There's a picture of me walking alone on the beach – aging Anna Faris, alone on the beach.
Pratt has been getting a lot of attention in the tabloids ever since his star-making turns in hits like Guardians of the Galaxy and Jurassic World, and with success in Hollywood come the inevitable rumors. As Fisher, who is married to Borat actor Sasha Baron Cohen, pointed out:
It's much more interesting to see a story about a tumultuous relationship than a happy one.
Regardless of the fact that the rumors of Pratt's cheating were false, Faris admitted they made her feel "incredibly insecure." When Fisher asked her what hurt the most, she said:
I think it was a combination of things. I take pride in how great my relationship is with Chris, but having said that, of course, in this crazy world where he's off doing movies and I'm in L.A. raising our child, of course I'm going to feel vulnerable, like any normal human would. It did make me feel like, 'Is public perception – even though it's false – is there a grain of something?' It made me feel incredibly insecure.
The couple have been married for seven years and have a 4-year-old son, Jack Pratt. And, considering the transient nature of Hollywood marriages, seven years is basically like being married in real life for, like, 21 years. Pratt and Faris have made no secret of their love for each other, with Faris telling the Huffington Post last year:
He is sexy, but more importantly he's a great person. When I was falling in love with him, I loved how kind he was to people. I loved how smart he is, but he's not pretentious at all. He doesn't wear that as a badge — he kind of lets people slowly discover it.
Unfortunately, adorable stories about couples who love each other and love their little boy aren't big headline makers. Unless, of course, that's what we choose to read.
So let's do that, then.