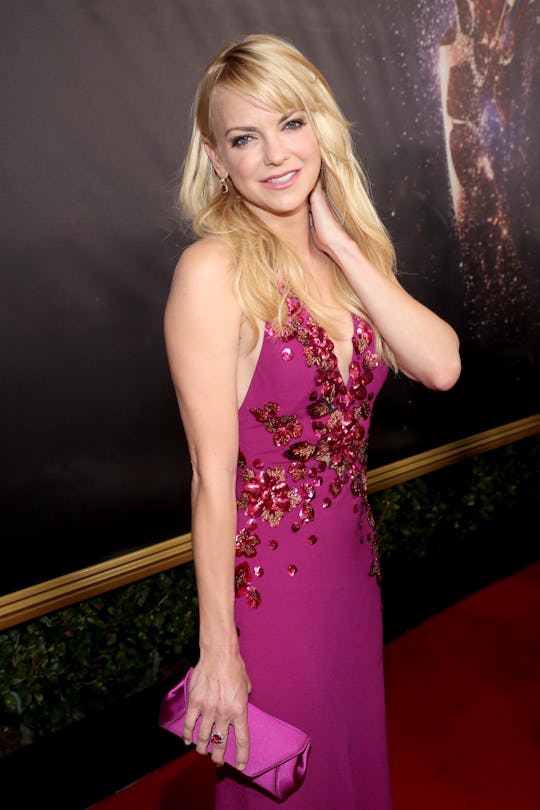 Rich Polk/Getty Images Entertainment/Getty Images
Anna Faris' Story About Son Jack's Private School Rejection Will Make Parents LOL
Anna Faris plays a mom on a show that is simply called Mom. I feel like this should mean she has the whole mom thing on lock. Apparently, and rather wonderfully, her professional job playing a mom does not mean she has somehow become the quintessential perfect parent. Faris opened up about son Jack's private school rejection, and it's a moment every mom who gets confused by school stuff will totally get behind.
The Overboard actress is the mother of adorable 5-year-old son Jack Pratt with ex-husband, actor Chris Pratt. Fans of both Faris and Pratt have been watching little Jack grow up through his parents' social media accounts from the time he was a baby, and now it seems he is getting ready to go to school. Which, as any parent with school-aged children knows, is like parenting 2.0. It's a whole new ball game, with a whole new set of social expectations and potentially embarrassing pitfalls — something Faris apparently learned right out of the gate. During a recent interview on Ellen, Faris told talk show host Ellen DeGeneres about her recent visit to a private school for her son, according to Hello Giggles. It was a new experience for Faris, who admitted she herself had gone to public school in Washington state and didn't know much about private schools.
And she quickly made this abundantly clear.
So here's what Faris told DeGeneres about her "terrifying" experience at the private school.
I went to this private school where they had all the parents sit around in a circle, and I don't know anybody, and there were a bunch of toys in the middle of a circle and we were supposed to pick a toy out and talk about the weather. That was the only instruction.
As an actress, Faris admitted that she suspected this was some form of group therapy session for parents. And she decided to go first, because she was apparently nervous and worried she wouldn't be able to focus on what the other parents had to say.
The Unqualified podcast host grabbed a toy and then told the other parents about her fears of rejection and her homework worries (because she said she "doesn't want to do homework," and I totally agree). Then the next parent grabbed a toy... and actually just talked about the weather. And so on. And so on.
She then told Degeneres, "Jack got rejected," according to Hello Giggles.
Their loss, am I right?
Whatever school Jack ends up attending, I'm sure the other moms will be good to Anna Faris. The cool ones anyways. Because she always seems like such a sweetheart; take her recent stint as the cover star for the May issue of Women's Health magazine. Faris was sweetly candid about her life since she and Pratt announced their separation eight months ago, saying they still had "a lot of love" between them, according to Women's Health:
What Chris and I try to do is to communicate openly. We reiterate that there aren't rules to this. We have a lot of love and friendship, and our big goal is to protect [our 5-year-old son] Jack. I cherish my family, my close friends, my child — that makes the rest of it worth it.
Anna Faris might not have exactly *nailed* her private school visit, but that's what makes everyone love her, I think. She doesn't come across as trying to be quirky or funny in a way that feels artificial; she gives the impression of a woman who is trying to figure her own life out on a day-to-day basis.
And if she is just putting on an endearing mom friend act? Give her an Oscar, folks, because she's killing it.