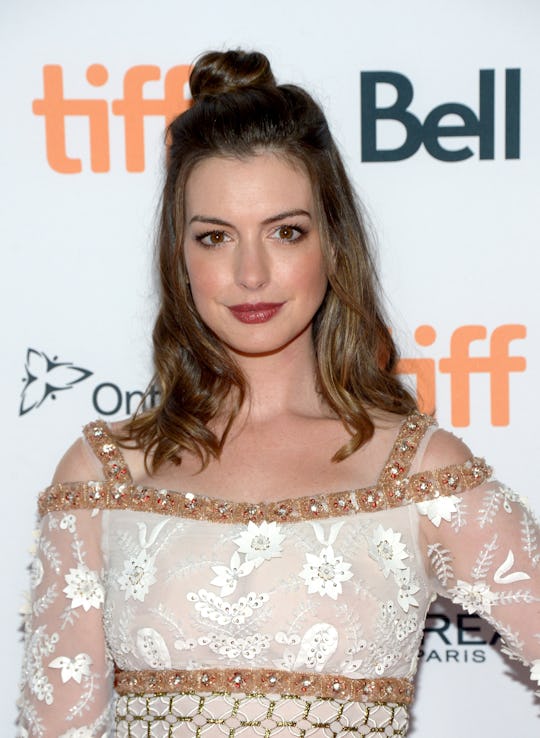 Matt Winkelmeyer/Getty Images Entertainment/Getty Images
Anne Hathaway Is "Proud" Of Her Post-Baby Body & That's Something All Women Should Hear
Since giving birth to her first baby in March, Oscar winning actress Anne Hathaway has noticed a few changes. Hathaway was at the Toronto International Film Festival promoting her new movie Colossal (co-starring SNL alum Jason Sudekis) and was refreshingly candid about motherhood. Or, to be more specific, what giving birth has done to her body. Hathaway said she is "proud" of her post-baby body, and here's hoping we will someday get to the stage where all women embrace the body that gave birth to actual humans.
Hathaway was at the People / EW / InStyle Portrait Studio in Toronto on Friday, and spoke up about the way she has changed physically since giving birth to son, Jonathan, with jewelry designer husband Adam Shulman.
"I think shape is an ongoing thing in everybody's life. So, I'm not trying to recapture something that was. I'm going with what it is now."
The actress said she has noticed a definite shift in the way her body looks and feels, and that's perfectly fine with her.
"Some things I guess are the same as they were, and other things are a little bit different. I'm just so proud of what the changes signify. So, there's no rush to do anything. I'm so happy being here."
Hathaway pointed out that having a baby put her previous workout challenges in perspective.
I find that my workout is really different now because it gave birth. I feel like doing burpees now after having a baby is zero big deal.
Far be it from me to argue with the Queen of Genovia (Princess Diaries 2: Royal Engagement reference, you are welcome ), but burpees are the absolute worst still. But I get what she means; birthing a human tends to make all pain seem puny.
This isn't the first time Hathaway has gone to the mat for body acceptance; on New Years Day she posted this glorious pic of herself in the third trimester of her pregnancy to Instagram with the caption:
Happy 2016 to my beautiful Instafriends! So, posting a bikini pic is a little out of character for me, but just now while I was at the beach I noticed I was being photographed. I figure if this kind of photo is going to be out in the world it should at least be an image that makes me happy (and be one that was taken with my consent. And with a filter :)Wishing you love, light and blessings for the year ahead!
She also told Ellen DeGeneres on her talk show while promoting Alice Through The Looking Glass about being insulted by a man at the gym who she felt was judging her body (when Jonathan was only seven weeks old, by the way):
I decide that I'm going to let it drop that I'm a new mom. And I'm like, 'You know, I have worked out here for a long time, but I've been gone because I just had a baby seven weeks ago.' And I'm expecting him to say the thing that you say when someone says that you've had a baby.
And he goes, 'Oh, trying to lose the baby weight?'
Hathaway told DeGeneres that, while she normally feels pretty confident, his assumption that she was trying to "lose the baby weight" made her "cry a little."
Which just goes to show you; even the most body-positive among us can be felled with an unkind word.