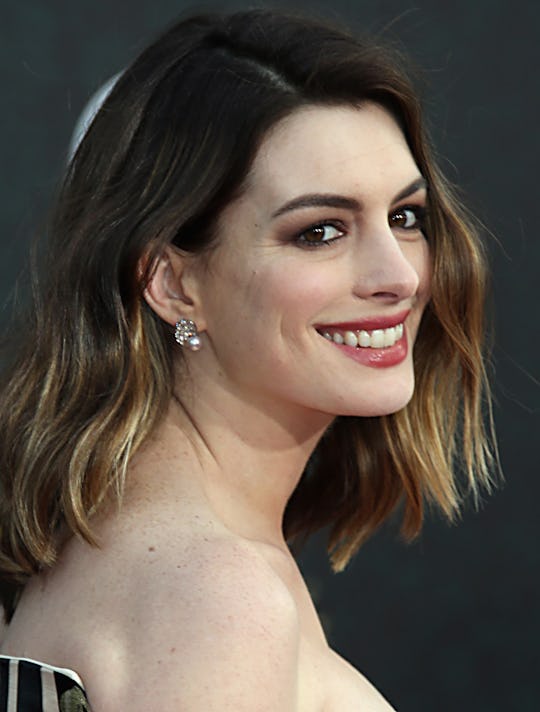 Frederick M. Brown/Getty Images Entertainment/Getty Images
Anne Hathaway Lied About Her Pregnancy, & Her Reason Makes Sense
Becoming a parent for the first time is a very exciting, yet personal time in someone's life and many soon-to-be moms choose to keep this news a secret until they hit that 12-week milestone, or sometimes longer. But, hiding a pregnancy can be a tough feat, especially if you're bad at lying. Opening up about her first pregnancy and motherhood, Anne Hathaway said she lied about her pregnancy, despite the fact that she's usually a "very, very bad liar."
"I get very flushed when I lie, so I am very bad at keeping secrets," the new mom told Entertainment Tonight at the Toronto International Film Festival while promoting her upcoming action-thriller film Colossal. "People can always tell what's up. The only secret that I kept, and I will tell you I got really good at lying, was when I was pregnant."
She added, "I lied about everything having to do with it."
But, according to the 33-year-old actress, her her reason for being so secretive about her pregnancy and her child-to-be is very relatable.
"I did not feel like, 'Oh, I am lying,'" Hathaway explained in the same Entertainment Tonight interview. "It was like, 'No, I am protecting.'"
She jokingly added, "I am a boxing-out mama bear."
Hathaway and her husband Adam Shulman welcomed their baby boy, Jonathan Rosebanks Shulman, back in March. Even before she became pregnant with the couple's first child, Hathaway made it no secret in past interviews that she couldn't wait to become a mother one day.
In an interview with Vogue back in 2013, the proud mom opened up about her future dreams about becoming a mother and having a family of her own.
"Oh, my God. I want to be a mother, and I anticipate loving my children quite fiercely," she said in the 2013 Vogue interview . "I think about it all the time, though it's a silly thing to think about because the kind of mother I'll be depends on the kind of children I have. I can't wait to meet them."
Motherhood surely hasn't slowed down the Oscar winning actress. Hathaway has been busy traveling the world while promoting Alice Through the Looking Glass as well as filming her latest film Colossal, which critics have described as "insane."
Although Hathaway is a busy working mom, she's got Shulman,who she describes as an excellent and attentive father. "As was to be expected, he's spectacular," Hathaway gushed in an interview with Entertainment Tonight back in May.
Hathaway's choice to remain tight-lipped throughout her pregnancy as long and as much as possible is something many moms can relate to. And mothers do know best, so if that means they need to tell a few white lies to protect to their bundles of joy, then so be it.