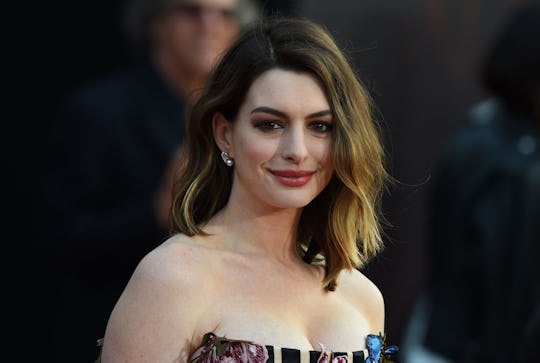 ROBYN BECK/AFP/Getty Images
Anne Hathaway's Statement About Her Post-Baby Body Is The Absolute Truth
Actress Anne Hathaway recently shared an Instagram post about body image and it was spot-on. It's no secret that women are especially subject to ridiculous scrutiny about their bodies. Not to mention the unrealistic "bounce back" expectations women face after giving birth. You know, after a woman delivers a human life, she's expected to look as if she wasn't just pregnant for months — celebrities always under the public eye know this all too well. And that's why Hathaway's statement about her post-baby body is the absolute truth. The societal pressure needs to go.
Hathaway and her husband, Adam Shulman, welcomed their first child, Jonathan, in March. In an Instagram post on Monday, Hathaway shared a photo of her jeans that she cut and altered into jean shorts. The actresses' explanation? Her jean shorts last summer no longer fit her "summer thighs." It's an adjustment that many people – pregnant or not – can relate to.
There is no shame in gaining weight during pregnancy (or ever).There is no shame if it takes longer than you think it will to lose the weight (if you want to lose it at all).There is no shame in finally breaking down and making your own jean shorts because last summer's are just too dang short for this summer's thighs. Bodies change.Bodies grow.Bodies shrink.It's all love(don't let anyone tell you otherwise.)Peace xx
Say that again.
And Hathaway isn't the only celebrity mom who has spoken out about the unsolicited remarks women receive about their bodies and weight after giving birth. Back in 2015, actress Eva Mendes, who has two daughters with Ryan Gosling, also addressed the same issue.
In an interview on The Wendy Show, Mendes explained why she's had enough of the "bounce back" talk.
I feel like we can be really hard on each other – like that whole term 'bounce back' after pregnancy, I never... I don't know... I don't like that terminology. Look, if you go into the bikini two weeks after, good for you, but that wasn't me. And that's OK, I just feel like we as women need to support each other more.
As for Hathaway, she is reportedly in negotiations to join Ocean's Eight, a woman-led reboot of Ocean's Eleven, Variety reported on Wednesday. The Academy Award winner is also the starring in Nacho Vigalondo-directed sci-fi thriller Colossal.
While Hathaway fans prepare for her next project, her Instagram post can continue to serve as another positive reference about body image. As the actress said, "Bodies change, bodies grow, bodies shrink. It's all love."