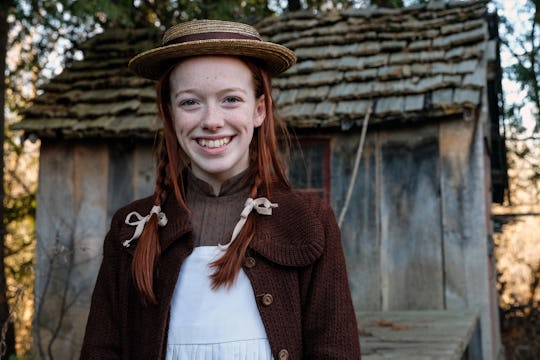 Netflix
Moira Walley-Beckett's 'Anne Of Green Gables' Is Fighting For Tolerance
A common critique of historical adaptations is a pretty striking lack of diversity. That's why with her version of Anne of Green Gables, the Netflix show Anne With an E, Moira Walley-Beckett was determined to expand the world originally laid out in the classic books. In a phone interview with Romper, Walley-Beckett talks about the real diversity of Canada both now and in the 19th century, and why it was so important for her to include that in her show.
If you took the reality of Victorian Prince Edward Island to be exactly as presented by L.M. Montgomery in the Anne of Green Gables books, you could almost be forgiven for believing that people of color and LGBTQ people simply did not exist there. "It's always really perturbed me that the world of Green Gables was so white when it didn't really reflect Canada's diversity then and certainly doesn't reflect it now," Walley-Beckett says. It's true that in film adaptations of many classic novels, everyone appears to be white and heterosexual and speak with an accent specific to the British midlands.
But the overwhelming whiteness of period pieces is finally starting to change. Take the recent Starz adaptation of Howard's End, for example. While other adaptations had taken it as a matter of course that all the characters were white, the miniseries directly challenges that assumption by casting actors of color in both large and minor roles. Walley-Beckett takes this one step further in Anne With an E by introducing entirely new characters of color and having her characters confront racism head-on.
One major departure from the book's version of events, for example, was when, in the show, Gilbert Blythe leaves town and finds work on a steamer ship, where he befriends a Trinidadian man named Sebastian, played by Canadian actor Dalmar Abuzeid. Walley-Beckett says that this storyline was part of her "master plan" to provide a more "realistic reflection of the color of Canada" and to broaden Gilbert's horizons. Gilbert brings his friend, a black man, home to Avonlea with him. The pair plans to start a farm together, but soon find that Sebastian is not welcomed warmly by the community. Sebastian and Gilbert butt heads when Sebastian wants to go to "The Bog" a marginalized community of people of color where he feels he'll be more accepted. And it turns out the Bog is a real place too. Walley-Beckett explains that while researching the time period her team stumbled upon this real community just outside of Charlottetown where people of color "were basically allowed to live," she says. "We felt strongly that we had to include it in the story."
But it is not only racial inequality that Walley-Beckett's Anne tackles. Young Anne (played to perfection by newcomer Amybeth McNulty) has a "love is love" epiphany when confronted with LGBTQ characters in the show. Walley-Beckett transforms the books' cantankerous maiden Aunt Josephine into a gay woman mourning the death of her partner. "You know, we don't live in a small world and there are a lot of people with a lot of different points of view and different ways of living," Walley-Beckett points out. "And I felt like Aunt Josephine afforded me an opportunity to show one." In Anne With an E, Aunt Jo had what would have been called a "Boston marriage," with the woman who was the great companion of her life. "And that would have been someone she loved nearly in secret and only presented in a certain way."
And Aunt Jo isn't the only gay character Anne With an E introduces. Anne and Diana also befriend a boy in their class named Cole, who is just discovering that he is gay and learning how to deal with that in a restrictive Victorian society. Later in the season, he comes to view Aunt Jo as something of a mentor. "It's not like gay people aren't there. It's just not written about," Walley-Beckett says. "I just feel so so strongly about being inclusive in this way."
There are, of course, those who dislike when film or TV adaptations of their favorite books veer too far from the original story. But to be honest, Walley-Beckett isn't really bothered about those people. "I didn't set out to do something that's been done before," she says. "I wanted to open up the pages and go deeper and mine for more reality and mine for more character drama." Well, for what it's worth, I loved Anne of Green Gables as a kid, and I also loved Anne With an E. My fingers are crossed for a third season.