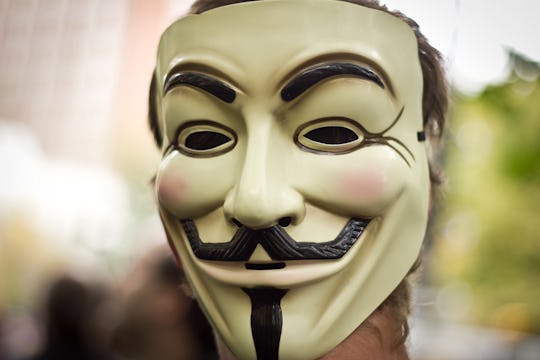 Luciano Castillo/Flickr
Anonymous Says ISIS Plans New Attacks Sunday In Paris, The U.S., & Elsewhere
On Saturday, the hacktivist group known as Anonymous reported that ISIS will attack targets around the world Sunday, in the U.S., Indonesia, Italy, Lebanon, and more in Paris, where the Islamic State carried out the coordinated attacks on Nov. 13 that killed 130 and injured over 350. Anonymous named the WWE Survivor Series wrestling event in Atlanta, Georgia as a U.S. target. (Update: The FBI has released a statement saying there is no credible threat to Atlanta, despite Anonymous' report.) In a statement to the International Business Times, Anonymous said that its offensive against ISIS is ongoing, and they are working with authorities in threatened regions:
We only appeared now because our goal was to remain undercover and report everything to the right authorities and let them take all the action. But when authorities do not take action, Anonymous does. This part of the op started last Monday and has, and will be active 24 hours a day as long as the op is going on.
According to Anonymous, the following locations are on the ISIS target list for Sunday:
Cigales Electroniques with Vocodecks, RE-Play & Rawtor at Le Bizen (Paris)
Concrete Invites Drumcode: Adam Beyer, Alan Fitzpatrick, Joel Mull at Concrete (Paris)
Demonstration by Collectif du Droit des Femmes (Paris)
Feast of Christ the King celebrations (Rome/Worldwide)
Al-Jihad, One Day One Juz (Indonesia)
Five Finger Death Punch (Milan)
University Pastoral Day (Holy Spirit University of Kaslik, Lebanon)
In Atlanta, the threat to the Survivor Series event scheduled to take place Sunday night at the Phillips Arena is being taken seriously. The FBI Field Office in Atlanta released the following statement:
The FBI is aware of reports of an alleged threat that includes an Atlanta, Georgia venue and event. While we take all threats seriously, we do not have specific or credible information of an attack at this time. We have, however, made the proper notifications as we continue to work closely with our law enforcement and private sector partners to keep our community safe.
Wrestlinginc.com posted a brief statement from the WWE saying it will not cancel the Survivor Series on Sunday, despite Anonymous's claims of an ISIS threat. Romper reached out to WWE for comment but has not yet heard back.
Images: Luciano Castillo/Flickr.