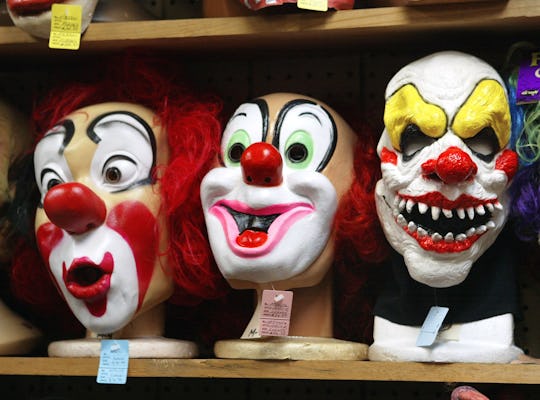 Tim Boyle/Getty Images News/Getty Images
Another Clown Threat On Facebook Has Parents Worried
It's beginning to feel a little like an epidemic we were warned about throughout the '90s, but no one really thought it would ever come to fruition. There have been a number of reports across American of creepy clowns trying to lure children with candy in recent months, and law enforcement agencies aren't laughing. And now, another clown threat on Facebook has parents who were already worried hitting the panic button as police look into the complaints.
Police in LaGrange, Georgia are investigating a possible clown threat on Facebook. Several parents saw a Facebook page that included photos of angry-looking clowns and mentioned area schools, Callaway Elementary, Franklin Forest Elementary, Callaway Middle School, Troup County High School and Callaway High School. The page also carried statements that someone planned to drive around to schools dressed as a clown in a white van and attempt to abduct children. It has since been taken down. While LaGrange Police do not consider this a credible threat at this point, they are taking it seriously. On the LaGrange Police Facebook page, this statement was issued:
Tonight we've received several calls about clowns in a van and in wooded areas trying to talk to children. This behavior is not cute or funny. Understand that if officers see this behavior, you're going to have a conversation with them. And, if applicable, you may face criminal charges.
This isn't the first time a clown threat has disturbed parents. The first report of a clown threat came out of Greenville, South Carolina in August, when an apartment complex notified parents that a clown had been reported trying to lure children into the woods with candy. Local residents became so distraught that Greenville Police Chief Ken Miller held a press conference to say that anyone over the age of 18 years old would be arrested for wearing a clown costume.
While there appeared to be a threat of a clown menacing children in the Winston-Salem area of North Carolina, it turned out to be a false report. David Wayne Armstrong, the 24-year-old-man who initially told area police he had chased a clown through the forest, has since admitted he fabricated the entire story and been arrested.
A picture of a scary-looking clown wearing a pumpkin-type mask and standing on the side of the road was cause for concern in West Virginia, according to Fox News.
"We don't know the person's purpose, and if someone took the picture just to scare folks," Mercer County Chief Deputy Darrell Bailey said. "But it's dangerous, and dangerous for them if it's a joke. We would like to put a stop to it — whatever it is. I have a deputy working on it, and trying to figure out where the picture originated, and who was the first person to post it."
Lieutenant Dale Strickland of LeGrange is worried that this possible "hoax" could be giving pranksters exactly what they are looking for, according to WRBL News:
It's ridiculous, if you take a moment to really think about the allegations, there is no way a group of clowns in a van would be able to commit a crime like this. What these people want is attention and now they've gotten it.