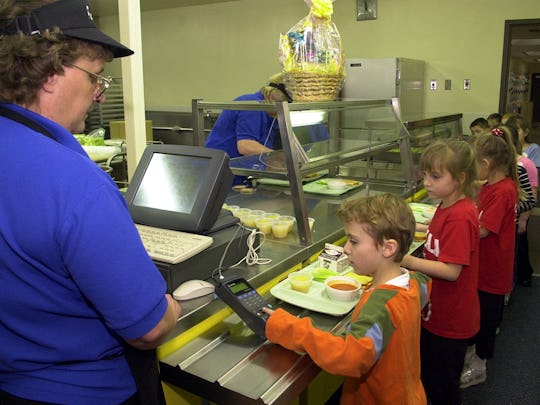 William Thomas Cain/Getty Images News/Getty Images
Anti-Lunch Shaming Bill Presented In Congress
Although they rarely agree on anything, Democrats teamed up with one Republican to introduce an anti-lunch shaming bill in Congress this week. The Anti-Lunch Shaming Act would prohibit school districts from singling children out if their parents haven't paid their cafeteria balance. Schools would no longer be able to force kids to wear wristbands or get stamped on their hand or have to do extra school "chores." Making students work for their cafeteria lunch is apparently something that offends members of both parties.
New Mexico Rep. Michelle Lujan Grisham said in a statement:
No student should be humiliated in front of their peers because their parents can't afford to pay for a meal. It is shocking and shameful that this happens to hungry children, but nearly half of all school districts use some form of lunch shaming.
Actually, New Mexico's lawmakers are the ones spearheading this bill in both the House and the Senate. New Mexico Rep. Ben Ray Luján and Sens. Tom Udall and Martin Heinrich also co-sponsored the bill, along with Pennsylvania Sen. Bob Casey, Connecticut Rep. Rosa DeLauro, Illinois Rep. Rodney Davis, and Virginia Rep. Bobby Scott. But New Mexico has really been leading the anti-lunch shaming movement.
Earlier this month, the state passed similar legislation banning lunch shaming. Mainly because one of the state's senators remembered just how humiliating it was when they were young. State Sen. Michael Padilla told NPR that he used to have to mop the cafeteria floors to earn his lunch, making friends with the adult cafeteria workers.
There's nothing wrong with making friends with school administration, but a child could better spend their afternoons studying, doing extra curricular activities, or even just socializing with their peers. Or, if they were old enough, getting a job after school that actually paid them money they could use.
Often students who have paid their lunch bills get a hot lunch, while the kids who have outstanding balances get a cheese sandwich. In both Colorado and Pennsylvania, cafeteria workers were fired for giving children with outstanding balances the hot meal instead. (Because who can deny a student a hot meal?) Padilla told NPR:
A 6-year-old maybe up to about an 11- or a 12–year-old, a 14-year-old, they have no power to fix this issue and to resolve this. If their parents have debt in the lunchroom, then that is not something that they have control over, and I don't know why we're punishing them.
Singling kids out stigmatizes them and could lead to bullying. Even more so, sending them back to class with an empty stomach, tossing a hot lunch out at the register, or giving them a measly cheese sandwich when there are other things available, is bad for their education and their health.
It's about time lawmakers came together for a good cause.