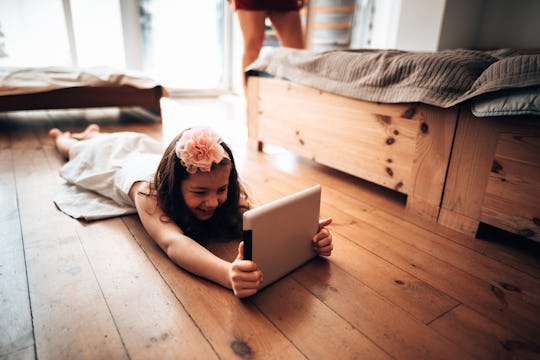 Franckreporter/Getty
14 Fun Apps To Teach Your Kids How To Read
Having grown up entertaining myself without a tablet or phone by my side, I sometimes go into curmudgeon mode when I see how often today's kids turn to tech when they have an idle moment. But I'm not such a progress-hating Luddite that I don't appreciate the benefits our smart technology has for children. For example, you can supplement the literacy skills they learn at home and school with one of the best reading apps for kids.
As we know, reading is both a vital life skill and a source of endless joy and information. It's considered such an important part of child development that the American Academy of Pediatrics urges parents to begin reading to children from infancy on, according to The New York Times. Now, it seems, smart technology may play a role in improving children's reading and academic skills. Researchers working in economically disadvantaged areas of Africa have found that children who were given tablets with literacy apps scored better on reading-preparedness tests than children without the tablets.
No one's suggesting that kids spend all of their free time swiping over letters and playing phonics games, of course. And nothing will ever take the place of the cherished bedtime-story ritual. But for parents who want to give their children a little extra reading boost (or who want an alternative to standard video games), here are some apps worth downloading.
This article was originally published on