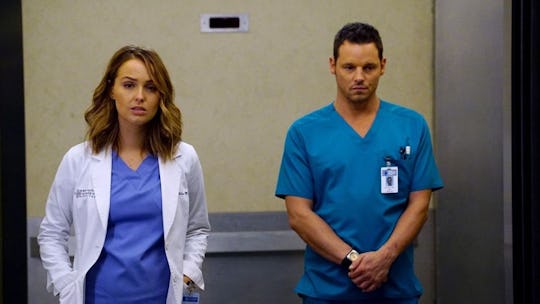 Richard Cartwright/ABC
Jo & Alex Might Be The Next 'Grey's Anatomy' Characters To Leave Seattle
Being a doctor comes with difficult decisions on the daily, the least of which are decisions about your own life. Just ask the fictional doctors of Grey Sloan Memorial Hospital. Last season ended with Jo considering taking a job at Massachusetts General Hospital, and her husband Alex was supportive of her decision either way. But since the move could mean a big change for two much loved characters, are Alex and Jo really leaving Seattle on Grey's Anatomy? After losing Arizona and April last season, I don't think fans could handle another huge loss and luckily, they might not have to.
In an interview with The Wrap, Camilla Luddington, who plays Jo, revealed a few clues about where Alex and Jo will be at the start of Season 15. "One of the things that does happen on the honeymoon is that Jo becomes inspired by what she believes could be a new medical innovation, and she decides that she wants to work on it with Meredith," Luddington said. "And she ends up having to go back to Seattle and try and pitch the idea and it sort of segues into inspiring what she wants to do as a specialty. So you see in the two-hour premiere what direction she's doing in, but then the question of Boston is still hanging in the air."
With Boston still looming above them, I still think that whatever Jo's new medical discovery is will keep her firmly planted at Grey Sloan. Who better to help her than *the* Meredith Grey?
After two big stars left Grey's Anatomy at the end of Season 14, fans may have been worried about the fates of their other favorite characters. But according to Entertainment Weekly, both Luddington and Justin Chambers, who plays, Alex, are among the returning stars this season. I don't see the show following the rest of the doctors in Seattle while also keeping tabs on Jo and Alex in Boston, so I wouldn't worry about the newlyweds leaving town anytime soon. There was that one time Derek worked in Washington, D.C. for a short period and stayed on the show despite the temporary move, though, so it's not totally out of the question.
But Luddington's tease about Jo's medical revelation on her honeymoon makes it sound like she'll be more inclined to begin working on it in Seattle with Meredith rather than at a new hospital across the country. Until now, Jo has had a hard time figuring out what her specialty might be, so if this big idea checks out, she could have more of a reason to stick it out in Seattle rather than take her talents elsewhere. And just logistically speaking, I can't see Grey's Anatomy getting rid of two more big stars, one of whom is an OG cast member.
There might actually be too much in store for Jo and Alex this season to add a move on top of that. Luddington told TVLine that she heard there's "a strong possibility" that viewers will meet Jo's parents this season. Last season, the door to Alex's past was opened a little wider as he reflected on his difficult childhood and went home to see his mother. Now, it could be Jo's turn to revisit her own past, further back than her previous marriage, when she was living out of her car as a teenager. And I can't wait to see how their story plays out from here.