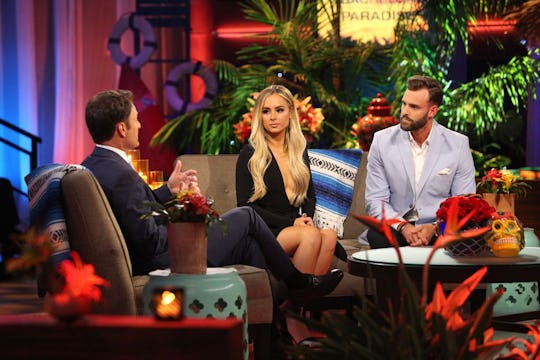 Paul Hebert/ABC
There's No Bad Blood Between Amanda & Robby After 'Paradise'
Sometimes it works out and sometimes it doesn't for contestants on Bachelor franchise shows. For Amanda and Robby, unfortunately, the latter seems to be the case. But are Amanda and Robby still friends after Bachelor in Paradise? They may have gotten together on the show, but it looks like their romance wasn't meant to last beyond the beaches of Playa Escondida, and they've gone their separate ways.
In an interview with Us Weekly, Amanda Stanton revealed that she and her erstwhile boyfriend Robby Hayes, otherwise known as the human Ken doll, didn't make it as a couple after their time on Paradise. While Robby first went after Raven, he seemed to be seriously interested in Amanda. He stole hotel slippers for her for goodness sakes! After the show, Amanda said that they tried to make it work as a couple, but it just didn't happen for them. "Robby and I are not together," she revealed. "I'm not really sure how Robby's handled the situation." Some rumors are even surfacing that Robby was not faithful to Amanda while they were together, with twins Emily and Haley Ferguson (also of Bachelor fame) alleging during the reunion taping that Robby cheated on Amanda, which he denied. (Romper reached out to Robby for comment and has yet to hear back.)
Amanda explained her side of the story to Entertainment Tonight, stating that:
Basically what happened was there was a night where he was out in Colorado in Denver, and he was supposed to come home that night, but he had missed his flight and his phone died and I didn't hear from him for a whole day. And then the next day he had called me in the morning and he was like, Sorry, my phone died.' And later that day, a girl said he was at a Zac Brown Band concert and sent me photos of him looking like they were making out all over each other.
She added, "He says that they were not. I wasn't there. So, I don't know. I can't tell you." I wasn't there either, so I don't know whether or not Robby actually made out with this woman at a Zac Brown concert.
What I do know is that Amanda has said she hopes to remain friends with her inhumanly chiseled ex-boyfriend. "I think there's so much to relationships, and I'm just at this point in my life, where I'm like it's OK... I don't want any awkward tension between anybody," she told E! News. "So I hope we can be friends." I hope so too, Amanda.
Check out Romper's new video series, Romper's Doula Diaries: