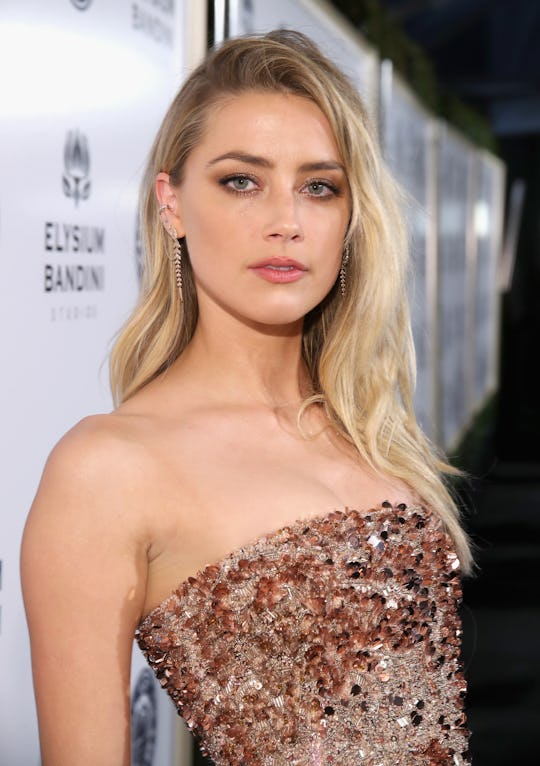 Randy Shropshire/Getty Images Entertainment/Getty Images
Are Amber Heard & Elon Musk An Item?
Have you ever played that game where you invent celebrity couples? Like, for years I (like most people) assumed that Harry Connick Jr. and Sandra Bullock were secretly in love because they seemed so right for each other. Well, if you're into the celebrity dating game, here's a couple I bet you never put together: Tesla billionaire Elon Musk and Amber Heard might be dating, and honestly did anyone see that coming?
According to People, billionaire Musk and Danish Girl actress Heard recently attended a screening of Al Gore's An Inconvenient Sequel: Truth To Power in Palo Alto on Tuesday, an event hosted by Apple CEO Tim Cook. This isn't the first time the two were spotted together; they were reportedly seen in Miami at the Delano South Beach last July and again two weeks later in London. At the time, both Musk and Heard were going through divorces; Heard's rather famously contentious split from ex-husband Johnny Depp and Musk's second divorce in less than five years from British actress Talulah Riley. A source close to the pair told People that the two were "just friends," and let's face it, Musk is pretty busy building tunnels under Los Angeles and such. But still, Musk is following Heard on Instagram and we all know what that means, don't we?
The two met in 2013 on the set of Robert Rodriguez' Machete Kills, when Musk reportedly sent Rodriguez an email asking him to arrange a dinner with Heard, according to The Daily Mail:
If there is a party or event with Amber, I'd be interested in meeting her just out of curiosity. Allegedly, she is a fan of George Orwell and Ayn Rand… most unusual.
He went on to clarify that he was:
... not angling for a date. I know she's in a long-term relationship, but … Amber just seems like an interesting person to meet.
Of course, most of us know about Heard's long term relationship; She married Pirates of the Caribbean actor Johnny Depp in 2015 after meeting on the set of The Rum Diaries in 2011. The two were only married for 14 months before splitting amid allegations of abuse; Heard claimed that Depp physically and verbally abused her during their marriage, but the charges were later dropped.
Depp himself denied the allegations from the beginning, and eventually the two divorced in January 2017 after eight months of legal battles. Heard was awarded $7 million dollars as a divorce settlement, and her lawyer Pierce O'Donnell told Us Weekly that she would be donating the entire sum equally to the ACLU and Children's Hospital:
The settlement documents are being finalized and will be signed this week. Johnny is obligated by the settlement to pay Amber, and she in turn will honor her pledges to Children's Hospital and the American Civil Liberties Union. Amber's commitment to protecting victims of domestic violence and helping sick children is her life's work. Her recent PSA on domestic violence does not violate her settlement agreement with Johnny. She will continue to lend her voice to the rising chorus of women speaking out about this terrible scourge on the American family.
If Musk and Heard are actually dating, here's hoping the two are happy and enjoying their supposedly fledgling relationship. And here's hoping people don't assume the worst of either of them, and their motives, because, come on. It's 2017, and we really just need to be nice to each other these days.