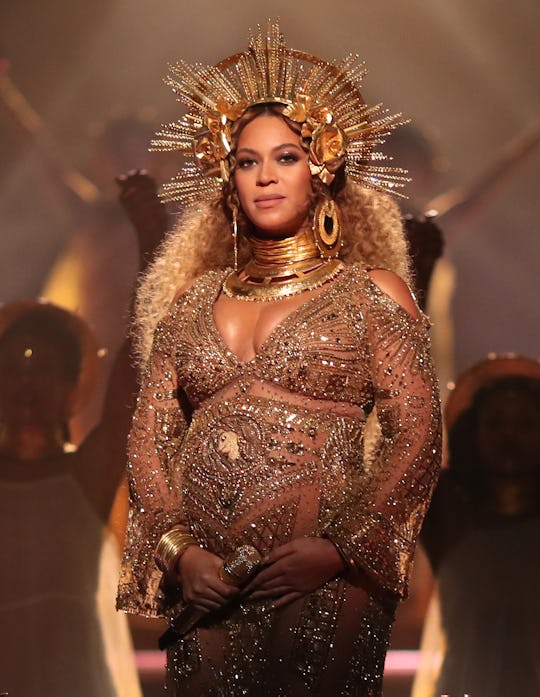 Christopher Polk/Getty Images Entertainment/Getty Images
Beyonce's Twins Are Here, But Did They Arrive Early?
Late Saturday night, after what has seemed like an eternity, Us Weekly reported that Beyoncé Knowles-Carter and husband Jay Z Carter welcomed twins earlier in the week. While details are scarce, including the twins' names, date of birth, and sex, the knowledge that two additional Knowles-Carters are living in the world is a welcomed reprieve from the current news cycle. Still, fans of Beyoncé can't help but wonder, "Are Beyoncé's twins early?" It's hard to say, as the actual birth date of the twins remains unknown, but it's safe to assume they arrived when they were supposed to.
UPDATE: TMZ reported on Sunday that Beyoncé's twins were still in the hospital for a "minor issue," but, according to a source, were "expected to be okay." Beyoncé herself was also reportedly still in the hospital, but would likely be "okay" as well, the source claimed. The outlet did not know the nature of the twins' condition. Later on Sunday, Us Weekly reported that, according to anonymous sources, Beyoncé and Jay Z had welcomed a baby boy and baby girl. The singer's reps did not immediately confirm the reports or release the twins' names.
EARLIER: Beyoncé announced her twin pregnancy to the masses via Instagram on Feb 1 of this year, although it was clear (or as clear as one can assume via social media and with a twin pregnancy) that she was significantly far along in her pregnancy at the time of the post. While some assumed she was at least three months, give or take, along, it's always difficult to surmise a gestation of any pregnancy — let alone a twin pregnancy — on looks alone. According to the American Pregnancy Association, "women who are carrying multiples often experience increased uterine stretching, and the fundal height may be greater than the actual gestational age." In other words, it's damn near impossible to guess how far along a pregnancy is when it's a twin pregnancy, especially if you're going off what a "normal," singleton pregnancy looks like.
The couple have been keeping any news or details of the pregnancy itself close to the chest, and rightfully so. As a result of their understandable secrecy, the best US Weekly could do in announcing the twins' arrival, is to say Beyoncé gave birth "earlier this week." While premature labor occurs in an estimated 12 precent of all pregnancies, according to the American Pregnancy Association, each additional baby a woman carries during her pregnancy increases her risks of premature labor and other pregnancy complications.
The most common complications associated with twin pregnancies, according to the American Pregnancy Association, include low birth weight, preeclampsia, gestational diabetes, a c-section, and, yes, premature labor. However, even with a twin pregnancy a mother who is healthy, fit, has access to prenatal care, and is supported runs a high chance of having a safe, on-time, successful birth.
In the end, and with details of the twins' birth still unknown, it's impossible to know whether or not the two additional Knowles-Carters were born "early" or "on-time." Honestly, does it even matter? The world has been made significantly better with two additional lives who can call Beyoncé their mom. So instead of wondering about a timeline, we should all collectively send our best well wishes and congratulations to the family of five. (And, probably, wait for Beyoncé's next album to drop, because priorities.)