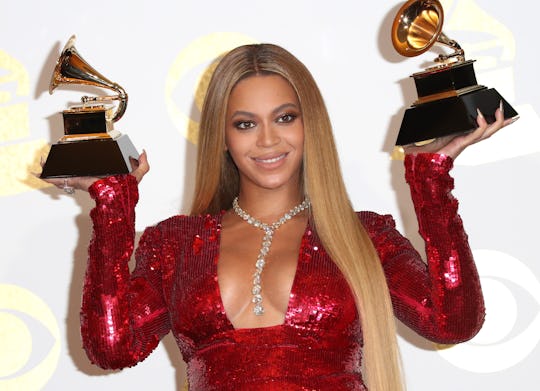 Frederick M. Brown/Getty Images Entertainment/Getty Images
Beyoncé's Twins Are Reportedly Still In The Hospital
Word on the internet is that Beyoncé has given birth to her twins — but that's about all the insanely curious public knows about the two new additions to the powerhouse Knowles-Carter family so far. The list of what we don't know is long, though: The babies' actual birthday, their names, their sex(es), where they were (reportedly) born, what the heck they look like and how they're doing post-birth. The last question is a pressing one, as there's no word on whether Beyoncé's twins are in the NICU, though a report out of TMZ on Sunday has claimed the new additions are still at the hospital with a "minor issue."
"Sources connected with the family tell us the twins were born on Monday in a Los Angeles hospital," the outlet claimed. "We're told a 'minor issue' surfaced, and as a result ... doctors do not feel comfortable releasing them. ... We do not know the nature of the issue."
According to TMZ, one source claimed that the singer herself was still in the hospital, but was doing "okay" and that the twins were "expected to be okay as well."
News that the twins had finally been born, which Us Weekly reported Saturday night citing "multiple sources," sent the Beyhive into a tizzy of obsessively refreshing the megastar's Instagram page hoping for a confirmation. In true Beyoncé fashion, though, details were initially pretty much nonexistent, with the "Formation" singer mum on the speculation. Considering her affinity for privacy and impressive ability to keep a secret, it's really no surprise that she opted not to come out with a statement and photos of her newborns right away, even if the reports were true.
In short, the lack of information doesn't necessarily mean that the babies are having any major issues — but it's still totally possible that they've made a pit stop in the NICU before moving on to world domination, as TMZ claimed. The report also states that the twins are a boy and a girl, and that they were born in Los Angeles on Monday — all information that has yet to be verified on the record.
Twins are more likely than singletons to spend time in the neonatal intensive care unit immediately after they come into the world, according to Parents. One major reason for this is that twins are generally born about four weeks prematurely, as more babies increase the chances that the mom's uterus will swell, which sets off contractions and the start of labor. Because preemies' organs are still developing, they often spend their first days, weeks, or months in the NICU. About 20 percent of twins head to the NICU, The Mayo Clinic's Brian Brost told Parents, and they're there for an average of nine to 25 days.
Of course, we don't know for sure whether Bey's twins were born early or not if they were indeed born recently. That's because she didn't include a due date in her epic Instagram announcement that they would join her daughter, 5-year-old Blue Ivy, as as Knowles-Carter royalty back in February. "We would like to share our love and happiness," she captioned the photo showcasing her pregnant belly at the time.
She continued:
We have been blessed two times over. We are incredibly grateful that our family will be growing by two, and we thank you for your well wishes. - The Carters
Whether the twins have encountered any real health setbacks early on is still unclear, and any solid reports will likely remain in limbo until Beyoncé herself issues an official declaration on Instagram or the like. Until then, it's safe to say that everyone is rooting for the family and wishing them all the best.