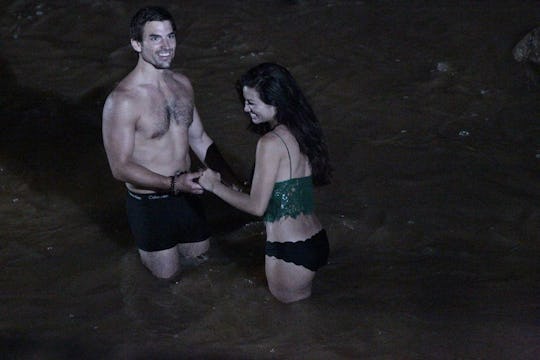 Are Caila & Jared Still Together After 'Bachelor In Paradise'? She's Ready To Leave Now
You may still be feeling whiplash over Izzy and Vinny's abrupt breakup on Bachelor in Paradise, but it looks like another couple who was going strong may be headed for shipwreck. After a whirlwind romance, Jared and Caila have been stumbling in recent episodes. First, there's the fact that Caila went on a date with Brett Melnick when he asked (even though she hesitated to accept). But mostly, her tension with Jared is due to sharing the season with his ex from last year (and on-again-off-again fling slash friend) Ashley. So are Caila and Jared still together after Bachelor in Paradise?
Update: Caila confirmed on After Paradise that she and Jared dated for six weeks after Paradise, but eventually broke up.
Well, it's unclear, but Week 5 has not left us hopeful. There's no evidence of the two together on one another's social media feeds (although Jared has been spotted in lots of pics with Ashley — just as friends), and on Monday night, Caila made another abrupt and dramatic exit from the show. Before Bachelor in Paradise even started filming this season, Caila and Ashley had become friendly off-camera. Ashley confided in her that she was nervous for Jared and Caila to meet, because she knew Jared would like her, and Ashley was still hopeful they might still end up together. Caila admitted that she swore Jared wasn't her type and she'd never go for him.
Of course, once she was in paradise, her feelings shifted. Caila did like Jared, she didn't know Ashley was joining the season literally hours after her arrival, and she had already hit it off with Jared after they expressed mutual interest. Ashley understandably felt backstabbed, and set about being brutally honest with both Jared and Caila about how she really felt about them, both individually and as a couple. It seemed like she was genuinely feeling protective of Jared when she told him he might like Caila more than she likes him. But Caila couldn't handle the constant scrutiny from Ashley, nor the feeling that she had done something to hurt somebody.
Caila told People in an interview, "My thing is that I just kept disappointing people. I saw that Emily was hurt, I saw that Ashley was hurt, and so my ultimate goal was not to hurt anybody else."
Caila left paradise, citing the above, and that she couldn't possibly grow her relationship with Ashley's overwhelming feelings constantly coming into play between them. Jared was understandably devastated, and he's begun contemplating whether he'd like to stay in paradise or follow Caila off the show. Here's the thing: there's only one week left of Bachelor in Paradise. So how likely is it that someone else will come on with whom Jared can build a relationship? But also, it would be super dramatic to leave the show in pursuit of Caila when they've only been dating a short time and — in all honesty — Caila does seem less into him than he is her.
Staying on the show just to hang out in Mexico for the duration of shooting and knocking back tequilas with Jorge might be Jared's best course of action here.