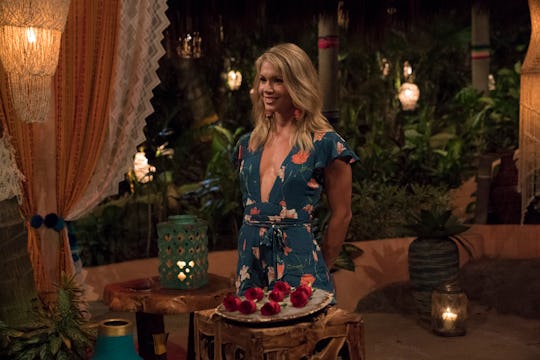 Paul Hebert/ABC
Chris & Krystal Could Be One Of The Stronger 'BiP' Couples This Season
Krystal and Chris didn't start out together on Bachelor in Paradise this season, but after getting together it really seemed like they could end the season as a couple. Even though Krystal kept an open mind about seeing what was out there with Connor, there is still hope for her original choice to win her heart. So naturally, fans are wondering if Chris and Krystal are still together after Bachelor in Paradise. If I was a betting woman, I would say they are one of the couples who make it out of this season in a serious relationship.
In the trailer for BiP Season 5, there's a shot of Krystal in bed, telling ~someone~ that life with them is going to be so exciting. Viewers haven't yet seen that on the show and I have to assume it takes place after a romantic night together at the end if the season. While it's possible that the person she's talking to is Connor, who took her on a romantic date earlier, I honestly think it's too late in the season for Krystal to have made that strong of a connection with anyone other than Chris. To be talking about sharing a life together outside of BiP is a big deal.
Both Chris and Krystal already follow each other on social media and they've liked a handful of each other's photos. Now, I realize that current and former contestants in Bachelor Nation are known to like and follow each other on social media, but this could still be a clue that they're together outside of the show. Krystal and Chris have one of the more established relationships right now and if they did break up after the whole Krystal and Connor date situation, then I highly doubt they'd still be friends on social media and liking each other's photos after filming ended. I'm old-fashioned that way.
At the beginning of August, Chris spoke to Entertainment Tonight and had only positive things to say about Krystal specifically. Of course he couldn't give anything away at the time. Still, his glowing words for her could mean that they're still together after BiP. "She's actually a beautiful person and I'm really excited to have America see that as well," he said of his BiP co-star and love interest this season. "I don't know if it's [about] redemption stories, but I think [Paradise] just has the ability to see people in areas of who they are and give people an idea of kind of who we are in real life."
Prior to finding each other on BiP this season, both Chris and Krystal had other ideas of who they might end up with. First, Krystal showed an interest in fan favorite Grocery Store Joe. Then, she went on a date with Kenny. Around the same time, Chris and Tia went on a date of their own and seemed to hit it off. But not long after, Chris set his sights on Krystal and the two shared a kiss. Then, when Tia and Chris ended things, he and Krystal became an official couple.
Right now, things might be a little messy, but I can't see the two of them leaving Paradise with anyone other than each other. While they do owe it to themselves to follow their hearts and see what's out there on BiP, they've put so much work into what they already have with each other. And I'd be surprised if Krystal and Chris are no longer together.