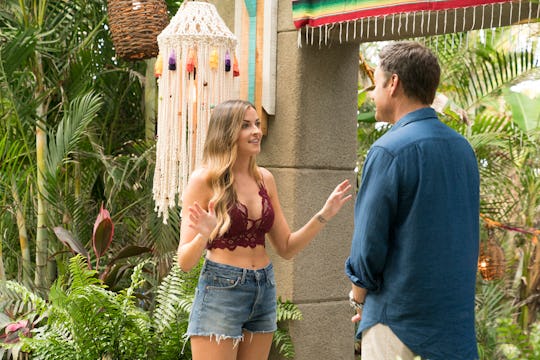 Paul Hebert/ABC
Tia & Chris May Not Be End Game On 'Bachelor In Paradise'
After Colton made his feelings and his intentions in Paradise absolutely clear, Tia made the decision to move on to the other man who stole her affections on the show — Chris. He was all for making it work with her and getting Colton out of the way to do so, but will Tia and Chris last on Bachelor in Paradise? As one of the first official pairs of the season, you can't help but have high hopes for them. But it's still early and the promo that was aired on TV after Monday's episode tells a different story.
In the promo for Tuesday night's episode of BiP, Chris is already making moves on Krystal, another potential romantic prospect. He tells her that he's "definitely not in a relationship" right before he leans in to kiss her on one of those oversized daybeds. Tia put all of her eggs in one basket with him and he tells her in the promo to trust him. I have a feeling that Chris and Krystal's kiss won't be forgiven, though. And faster than you can say "will you accept this rose?" Tia and Chris are probably going to be done-zo.
In the official Season 5 trailer, Krystal tells someone in bed with her that life with that person is "going to be really exciting." The other person in bed with her isn't shown, but if the initial kiss with Chris is any indication of their future, then it's safe to say that Tia and Chris don't last this season. There is a clip of Chris claiming that he's in love with Tia, though, so I definitely see some more heartbreak on the horizon for her.
The bigger question here is who Tia will be with after Chris if she decides to end that relationship after his kiss with Krystal. The women will be at the mercy of the men during the next round of eliminations. Unless Tia makes a connection with someone else before then, she could find herself without a potential suitor ahead of the rose ceremony. There is the chance that Colton will also have not made any connections, if only because no one wants to be thrown into the Tia and Colton mess. So he can potentially give her a rose to keep her in the running for another week.
As for Krystal and Chris, that seems like a match made in Bachelor villain history. During Arie Luyendyk Jr.'s season of The Bachelor, Krystal was the outspoken, Madame Can-I-Steal-You-For-A-Sec who rubbed all the other women the wrong way. On Becca Kufrin's season of The Bachelorette, Chris came off as confrontational and a little (a lot) insecure. It sort of makes sense that the two would gravitate toward each other. That still doesn't explain, however, why Chris would cast Tia off despite the rose she gave him.
Because of what looks like an eventual romance with Krystal, I don't think Chris and Tia will last much longer on BiP this season. I also don't think that the Colton and Tia drama is completely done. Once Chris kisses Krystal and Tia finds out, she and Colton could find themselves thrown back together (if only because they've unintentionally made themselves unattainable because of their history together). There are no social media clues to say for sure if Tia and Chris make it or if they each ventured off to other partners for good this season. But given the telling promos, I would say that their relationship will be a fling at best.