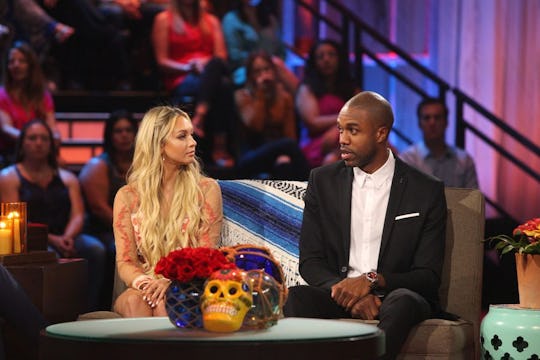 Paul Hebert/ABC
Corinne & DeMario Seem To Be On Good Terms After 'Paradise'
Filming for the fourth season of Bachelor in Paradise was briefly shut down over the summer while Warner Brothers investigated possible sexual misconduct between Corinne Olympios and DeMario Jackson. Filming eventually resumed when it was determined no misconduct had occurred. Corinne and DeMario have talked publicly about what happened, and it looks like they'll be sitting down with Chris Harrison for another chat in the Season 4 finale. But are Corinne and DeMario friends after Bachelor in Paradise?
From the looks of it, the two are on good terms these days. Corinne and DeMario were photographed together in Los Angeles on Aug. 31 outside of a restaurant, and they seemed friendly. In fact, Corinne was captured jumping into DeMario's arms and kissing him on the cheek. In several past interviews after the scandal, Corinne has made it clear that she does not personally blame DeMario for what happened; in her opinion, they had both been caught up in a very terrible situation. Corinne told Good Morning America that she had little to no memory of the incident itself because a mix of alcohol and medication had led to her blacking out entirely. DeMario was also drunk, though retained his memory of what occurred.
In the interview with Good Morning America, Corinne explained that she wished DeMario well and there was no bad blood between them. She reiterated that during a conversation with Harrison on an episode of Bachelor in Paradise. "I honestly don't think he did anything wrong," Corinne said. "I don't think it's anyone's fault. It's just a really unfortunate, annoying situation that had to go down." She later added, "I don't blame DeMario. I don't even know what to call it. It's just so heart-sinking."
According to Entertainment Tonight, Corinne and DeMario's Aug. 31 run-in was the first time they had seen each other since filming ended for Bachelor in Paradise. According to Corinne, the meeting finally gave them a chance to talk and hang out normally. She said that she was bothered by him going to the media initially, but that they worked things out. "I did express to him that I was upset that we could have handled it privately," Corinne told ET. "But everything happens for a reason, and we're all good now."
Corinne and DeMario might not be best friends, but it seems there are no negative feelings between them at the moment.
Check out Romper's new video series, Romper's Doula Diaries: