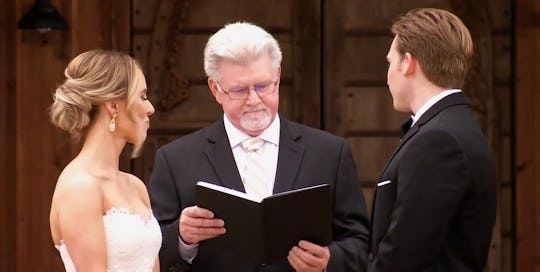 Lifetime/YouTube
Danielle & Bobby From 'Married At First Sight' May Have Found True Love
One of the couples on this season of Married at First Sight is Danielle Bergman and Bobby Dodd — and they seemed to hit it off from the moment they met on their wedding day. Though there were some concerns for Danielle, over all the pair appear to working well together. So are Danielle and Bobby from Married at First Sight still together?
It's hard to say for sure. With the season still currently airing, there isn't much information about what the couple is up to presently. No doubt the show wants to keep how Danielle and Bobby's story ends under wraps until it plays out on TV. However, based on what viewers have seen thus far on the show, the odds certainly look good for the newlyweds.
In the latest episode, Danielle did bring up one concern with Bobby, however. Bobby mentioned when he was growing up his dad would go to work while his mom would stay at home taking care of him and his sister. Bobby said this is the kind of home life he would like for his kid(s), which concerned Danielle, who wasn't totally against the idea but wanted the option of being a working mom.
Thankfully, when Danielle raised her concerns to Bobby he was very receptive and explained that he didn't expect them to live like it was the 1950s. "My mom was a stay-at-home mom and my dad's mom was a stay-at-home mom and so I come from a background of stay-at-home moms, but I also realize it's 2018 and traditional gender roles are out the window for the most part," Bobby said in his confessional.
He then told Danielle, "Whatever it is that you want to do or your goals, I want to help you meet those goals. I want to continue to be married to you and for the marriage to continue to blossom as a whole." Obviously, Bobby is all in and is willing to do whatever it takes to make this marriage work. It looks like Danielle also feels the same way, and their marriage is off to a good start. Unfortunately, that is not the case for all the couples on this season of Married at First Sight.
Tristan Thompson (not the basketball player) and his wife Mia Bally have gotten off to a rocky start. At the airport about to leave for their honeymoon, Mia was detained by the authorities because there was a warrant out for her arrest. Lifetime confirmed to Newsweek that they were unaware that there was a warrant out for Mia's arrest prior to her being cast on the show. The warrant was apparently filed after her background check had been cleared by production.
It was later revealed that Mia's ex-boyfriend Jared Evans accused her of stalking him. She had three charges of stalking and one count of credit card fraud against her. Mia denied the allegations, however, claiming it was an instance of mistaken identity. The charges were later dropped, but in a preview for the next episode Mia reveals she lied. Now Tristan's wondering whether or not they should stay married or get a divorce. Realizing the severity of the situation the experts will step in during the next episode to speak to Tristan and Mia separately and together.
"We want to support the marriage, but we also want to support these people who have gone through a very difficult situation," Dr. Schwartz said in a sneak peek obtained by RadarOnline.com. Whether that means the couple decides to try and make their marriage work or to call it quits remains to be seen.