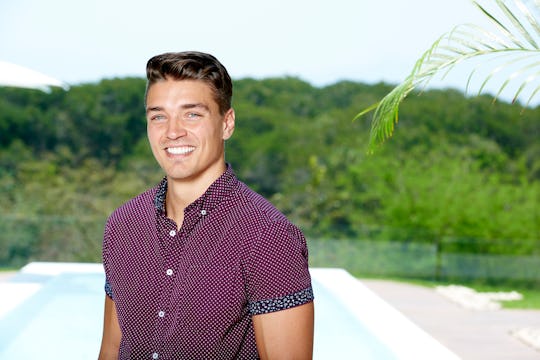 Bob D'Amico/ABC
Dean's Love Life On 'Paradise' Is About To Get Complicated
Chris Harrison wasn't joking when he said that this would be one of the most dramatic seasons of Bachelor n Paradise yet. The arrival of more people in Paradise really shakes things up, even going as far as to potentially break up some couples that seemed to have a real attraction at first. Dean and Kristina may be next up on that list, especially since there's a good chance that Danielle Lombard (from Nick Viall's season of The Bachelor) may end up catching his eye. So are Dean and Danielle L. dating after Bachelor In Paradise? Get ready to watch a potential love triangle unfold.
If seems like Danielle's arrival is really going to confuse Dean, who initially was so into Kristina that he even went to Kentucky to see her during the break in filming this summer. They've hung out, they've made out, and Kristina has even been seen crying over him. And while we have yet to learn how their potential love story will play out, Danielle L.'s arrival this week could cause a rift between these two lovebirds. So if Danielle L. is the reason that Kristina and Dean decide to part ways, do they at least stick together?
There are no good clues either way. Since the end of The Bachelorette and the premiere of Bachelor In Paradise, Dean's been active on social media, but it's difficult to tell where he was or if he's involved with anyone. It's a lot of bro hang outs and selfies. His Twitter account gives no clues either, except that he hosts polls to pick his outfits. If they were together, wouldn't Danielle L. be able to do that for him?
Danielle's Instagram is no help, either, though she is definitely attached to her fellow cast members, and posts pictures of herself hanging with the women.
There is one kicker here. Dean told Glamour that he did find love this summer in Mexico. "Yeah, I'll be honest with you. I did find love in Paradise. Yeah. I don't see any need to hide it," he said in an interview. But he won't say whether they're still together or if it lasts. Dean added, "That's the kicker! That's the million-dollar question. I guess we'll have to tune in to find out. That's what the live reunion is for!"
Dean's referring to the fact that this season will be compacted since they had to stall filming for a few weeks. Instead of filming the finale in Paradise, they're going to have a live reunion that will be the final episode. So that's when each final couple will find out if the feelings are mutual.
Whether he means he found love and lost it or found love and is loving it, remains to be seen. It could be Danielle L. or Kristina or neither. We'll just have to wait and find out.