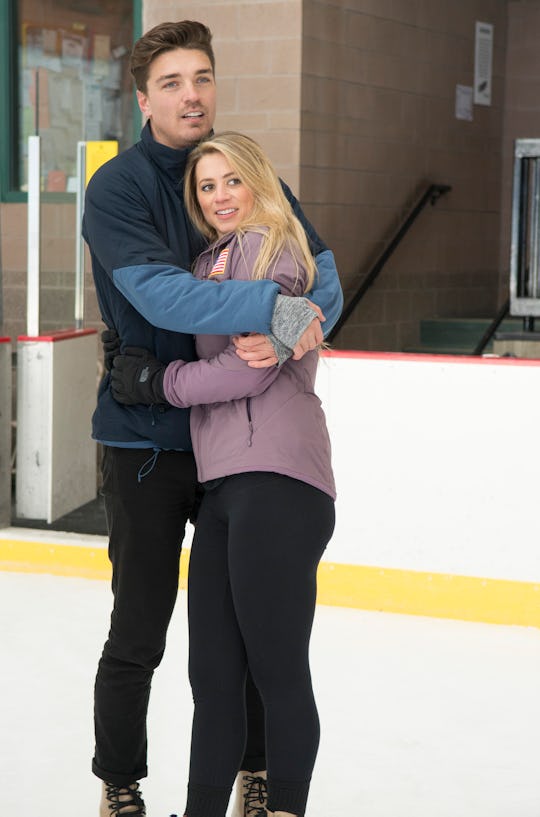 ABC
Dean & Lesley Could Be Getting Engaged On 'The Bachelor Winter Games'
Who would have thought that spending just a couple of weeks together doing winter sports and hanging in the hot tub would induce people to fall in love and get engaged? Dean Unglert and Lesley Murphy make up one of the most solid couples on The Bachelor Winter Games thus far. And since we know an engagement takes place by the end, some may be wondering: are Dean and Lesley engaged after The Bachelor Winter Games? Well, if they're not engaged to be married, they're certainly engaged in something. At least, I assume so.
On The Bachelor Winter Games, Dean and Lesley quickly established themselves as one of the most secure couples in the house. And when the official Winter Games twitter account posted the news that one couple gets engaged, naturally people thought of these two, who surprised everyone with their easy chemistry. Sure, Dean has been accused of immaturity, not least of all by his ex-girlfriend Rachel Lindsay, who appeared on Tuesday's episode to judge a "kissing contest" between the couples. But Lesley seems to have grown more secure in their relationship over just a few weeks, and it's totally possible that these two decided to tie the knot after falling in love in Vermont.
It would go against every Bachelor Nation rule for either Dean or Lesley to post on their social media accounts whether or not they are engaged. However that hasn't stopped Lesley from posting something else that at the very least implies that these two are still romantically involved. She posted a picture on Instagram of two pairs of legs tangled up romantically in bed. One set I assume is her own, while the other, I'm going to go ahead and guess, is Dean's. I haven't studied his legs in great detail or anything but they at least look like they're his.
She captioned the photo: "Jumped out of a plane yesterday and landed on cloud 9." Aside from being just the cutest thing ever, this caption implies that Lesley is getting extremely cozy with someone and she feels dang good about it. Aside from my favorites Ashley I. and Bibiana, Lesley turned out to be one of the most likable stars on Winter Games, exuding both low-key warmth and incredible strength following her double mastectomy. Lady, if you're taking applications to be your best friend, I am here.
But is she engaged? In his blog about the show in People, Chris Harrison teased a lot of drama to come on the last episode of Winter Games as well as the World Tell All, which immediately follows it. He said that there will be one heartbreaking break-up on the show (which I doubt are Dean and Lesley) and that there will be a surprising proposal at the reunion. Could Dean really be ready for marriage after his antics on Bachelor in Paradise? If you'd asked me before this show aired, I would say definitely no. Now I'm more like probably no.
As I mentioned before, the official Bachelor Winter Games twitter account also teased the engagement, posting a picture of two clasped hands, one of which is wearing a rock the size of Nebraska. Many fans speculate that Benoit will make a triumphant return and proposed to Clare, who seems to have finally realized that her relationship with Christian just wasn't working. This is based on the fact that the ring-hand in the photo is wearing a small, gold pinky ring that loose suspiciously similar to rings Clare has been seen wearing in many of her Instagram posts. But that style of jewelry is pretty trendy at the moment, and could belong to anyone.
Adding fuel to the fire speculating a Dean proposal, a promo for the finale shows the reformed ladies' man actually getting down on one knee. The Bachelor is known to be big on fake-outs, so this could just be some clever editing. It seems almost too obvious to be real. Then again, maybe Dean is ready.
Check out Romper's new video series, Romper's Doula Diaries:
Watch full episodes of Romper's Doula Diaries on Facebook Watch.