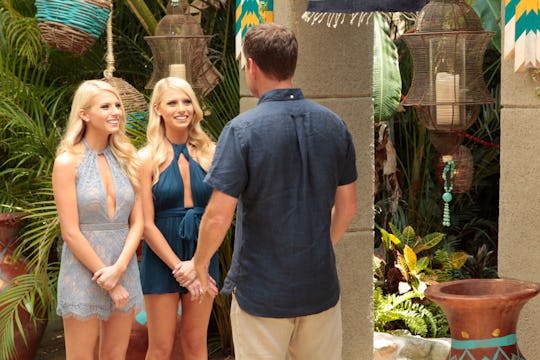 Rick Rowell/ABC
Are Emily & Haley Single After 'Bachelor In Paradise'? Romance Might Be On The Horizon
There are some Bachelor in Paradise couples that we can already see going the distance – and one that even dropped the 'L' word already, four weeks in – but as we can see from the recent implosion of Vinny and Izzy's relationship, nothing in Paradise is certain. Still, other Bachelors and Bachelorettes have yet to get much attention at all. Since the beginning of the season, Haley and Emily Ferguson hadn't seemed to make any genuine connections, though the tide seems to be turning for them as of the August 22 episode. But are Emily and Haley single after Bachelor in Paradise?
The Ferguson twins were on the most recent season of The Bachelor, where, unfortunately, they were probably best known for being identical twins – at least until Week 4, when Bachelor Ben Higgins realized that he couldn't continue to date the two of them simultaneously and decided to send Haley home. Emily was sent home just a few weeks later, during her Week 7 one-on-one date.
In Paradise, the producers didn't exactly bother to distinguish the twins as two individual women. Right off the bat, Chris Harrison explained that there was a "twins are a package deal" sort of rule – as long as one of the twins gets a rose, the other gets to stay, regardless of whether another guy gives them a rose. For the first three weeks, neither Emily or Haley had much luck finding a connection but still managed to stay in the competition by nabbing a few wild card roses.
Emily was briefly interested in Jared Haibon – a hot Paradise commodity, between Jubilee Sharpe, Ashley Iaconetti, and Emily's interest in him – but he passed each of the other women over in favor of Week 3 newcomer Caila "With The Good Hair" Quinn. Similarly, Haley briefly entertained a connection with Week 3 newcomer Brandon Andreen, but after he failed to be able to tell her and Emily apart (twin dealbreaker) she sent him packing by giving her rose to her platonic friend Nick Viall instead. So, in all, the first three weeks were kind of a bust for the twins.
The first half of Week 4 started to see it all turn around. Daniel gave Haley his rose, sending Sarah Herron and Ashley home (though Ashley, crafty as always, managed to plead her way back onto the beach). Then, newcomer Ryan Beckett, from Kaitlyn Bristowe's season of The Bachelorette, asked Haley out on a romantic horseback riding date.
In the same episode, Emily went on a decidedly less romantic booze cruise date with new arrival Carl King, from Andi Dorfman's Bachelorette season, where they definitely connected – on a physical level, at least.
Haley's relationship with Ryan and Emily's with Carl are both obviously very much in a preliminary stage – there's only one rose ceremony per week, so a lot can change between now and next week's ceremony, when the ladies will be responsible for doling out roses.
Looking at each of the twins' social media, it's basically impossible to gauge whether they're single or attached. They're models from Las Vegas, so their posts are, for the most part, super-glam modeling shots or the two hanging out with friends – including several fellow Bachelor Nation alums. Nick even makes an appearance, but it's pretty clear that he's just a close platonic friend of the Fergusons.
There have also been whispers circulating that Haley might be attached to Chris Soules, a former Bachelor who was briefly rumored to be a cast member of Bachelor in Paradise this season, after the two were spotted out together.
Of course, it's totally possible that Emily and/or Haley make a love connection while in Paradise and are just incredibly good at keeping their new relationship on the downlow. Either way, we'll just have to tune in and see how it plays out.