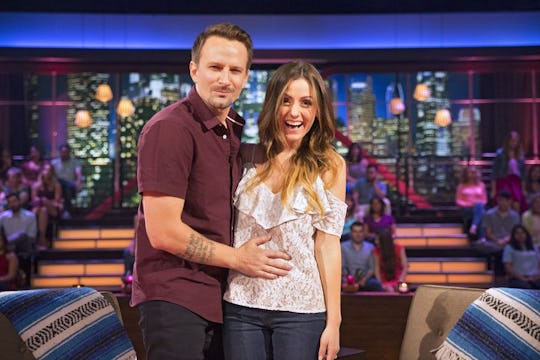 Paul Hebert/ABC
Evan Bass & Carly Waddell's Wedding Is Getting The 'Paradise' Treatment
For all of the hokum and comedic sound effects that make up Bachelor in Paradise every summer, there's something to be said for the couples that make it out of the show and last. While those couples may be few and far between, it does happen and during Season 3, Carly Waddell and Evan Bass got engaged on the show. Their wedding is set to air this season, but are Evan Bass and Carly Waddell really married? The Bachelor in Paradise duo are the real deal this time around.
Not only did the couple get engaged on Season 3 of Bachelor in Paradise, but they also met and fell in love during the same season. Carly and Evan's wedding, which involved his three sons from a previous marriage and plenty of Bachelor Nation friends, was officiated by Chris Harrison on the beach where the couple fell in love and it's pretty legit.
Although things didn't start off so great with the couple when they met during Season 3, it only took a vomit-inducing habanero kiss and impromptu hospital visit to bring them together. But since there have been past instances where couples weren't what they seemed, fans have no doubt been wondering if Carly and Evan are really married on Bachelor in Paradise Season 4.
On the very first season of the show in 2014, contestants Marcus Grodd and Lacy Faddoul also met, fell in love, and got engaged. They returned the following season to get married on TV and all would have been well, but when they got home to officially start and file the paperwork, things started to go stale for the Bachelor in Paradise couple. According to Marcus, Lacy stalled on starting the paperwork to make their marriage legal, and from there the relationship started to go downhill. Eventually, the couple split and went their separate ways. With Evan and Carly, though, things are already going more smoothly than other BIP duos before them.
For their Bachelor in Paradise wedding, they had both family and friends in attendance and although they also had to file the proper paperwork when they got home to Nashville, there's no going back for the happy couple. They recently revealed to Entertainment Tonight's Lauren Zima that they found out they're expecting their first baby together while they were still in Mexico for their wedding.
"It was a great surprise, it's a great little miracle," Carly said of the pregnancy "We took a pregnancy test in Mexico, and we saw the thing [in Spanish] and were like, 'What does that even say?' So we googled it!" Evan added, "It's a Paradise baby."
Evan and Carly have definitely come a long way from the awkward couple with lop-sided feelings to becoming a pair that the newest batch of contestants now look to as an example for what they want out of the current season. And since Carly and Evan's wedding will be on Bachelor in Paradise Tuesday night, fans won't have to wait much longer to see their wedding unfold.