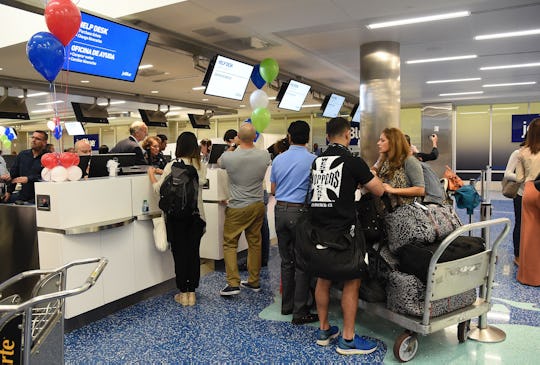 RHONA WISE/AFP/Getty Images
A Shooting Is Affecting Flights To Fort Lauderdale
At least five people were killed and several others injured after a gunman opened fire Friday in a crowded baggage terminal in Fort Lauderdale, local officials said, according to The New York Times. The Broward County Sheriff told reporters that the gunman is in custody. The wounded are being treated at an area hospital. As news continues to break on the situation, passengers are wondering if flights to Fort Lauderdale are canceled.
Fort Lauderdale-Hollywood International Airport tweeted that the airport is closed "for an extended period of time." The tweet came a half hour after the airport's account posted that all services were temporarily suspended. Right now it is unclear when the airport will reopen and, according to one local TV reporter, incoming flights are either diverting to another Florida airport or turning back to the departure city. Passengers have been directed to contact their airline for more information on their flight.
Broward County Sheriff Scott Israel said the suspect acted alone and was taken into custody "without incident," NBC News has reported. Chip LaMarca, a Broward County commissioner, told the Associated Press that the gunman, who flew in from Alaska by way of Canada, retrieved his gun from a checked bag he claimed, and loaded the weapon in the bathroom before opening fire at around 12:55 p.m. Witnesses to the mid-day mass shooting said the suspect started firing randomly into the crowd gathered near the baggage claim area inside Terminal 2, according to NBC News.
"The gunman said nothing and didn't appear to be targeting anyone specifically," John Schicher, a witness, told MSNBC.
Local officials initially reported that eight people were injured in the shooting, but Broward County Mayor Barbara Sharief later told CNN that 13 people have been confirmed wounded and taken to nearby hospitals. Sharief also said that the motive for the shooting is right now unclear, although some have speculated terrorism is involved.
This is the sixth mass shooting in the United States in six days, according to the Gun Violence Archive. The Florida shooting comes as state lawmakers consider a bill that would allow guns on college campuses, at government meetings, and at airports.