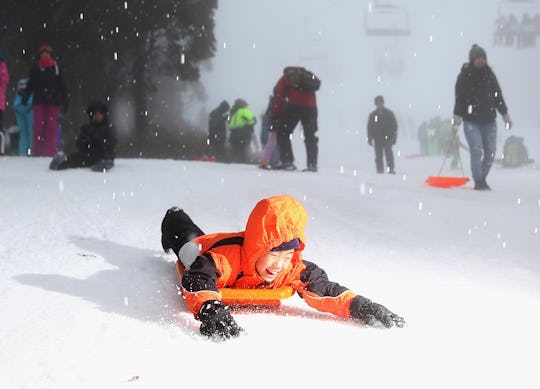 Robert Cianflone/Getty Images News/Getty Images
Flu & Meningitis Symptoms Are Very Similar
'Tis the season for sneezing, coughing, runny noses, and fevers. It's never easy when your child has the flu, but it's usually not something many parents are scared of or consider to be fatal. A bad fever and body aches (not to mention the days home from school and work) aren't usually the end of the world. But flu and meningitis symptoms are actually very, very similar. And although the flu isn't usually dangerous, meningitis is much more serious.
In Ohio this month, four children have died from flu-like symptoms, all of them around 6 and 7 years old. Health department officials said that they died of the flu, not meningitis, but it's best to keep your eyes out for symptoms, since they're pretty similar.
The symptoms of the flu are: congestion, sneezing, body aches, sore throat, headaches, and sometimes even nausea. The symptoms of meningitis are usually headache, a sudden high fever, and a stiff neck, so if your child is complaining of aches and pains but isn't running through boxes of tissues or has a sore throat, you want to take him to the doctor to check for the virus. If caught early, meningitis can be treated with antibiotics.
Flu season is apparently worse than it has been in recent years. In addition to the four deaths in Ohio, there have been spikes in hospitalizations due to severe flu all over the country. The northwest has been hit the hardest, according to the Centers for Disease Control and Prevention. Children and the elderly are the most susceptible, so it's best to take the flu very seriously and not write it off.
"I think that people need to realize that influenza is not a trivial disease and even healthy people, whether they are young, whether they are older, can suffer complications of influenza including death," Ohio doctor Marguarite Erme of Summit County Public Health said in a recent statement.
The flu can usually be prevented by getting a flu shot and if, for some reason, you're scared of getting your kid vaccinated, you should at least get one for yourself so that you don't transmit it. Most types of meningitis, too, can be vaccinated against. But to be totally safe, it's wise to just get the kids vaccinated themselves. It's possible — though officials won't know for sure until the season is over — that fear of vaccinations is causing the spike in flu-related deaths. Putting children at risk of death by not getting them a flu shot, or keeping up with their meningitis booster shots, is totally unnecessary.
"Influenza vaccination is the safest and most effective way to fight the flu," Ohio Department of Health Medical Director Dr. Mary DiOrio told the Examiner, a local Ohio news outlet. She added, "Flu vaccination is especially important for older people, young children, pregnant women and people with certain health conditions who are more vulnerable to serious flu complications."
As a parent, the best way to keep kids healthy is to just get them vaccinated. And be on the lookout for the symptoms of both the flu and meningitis.