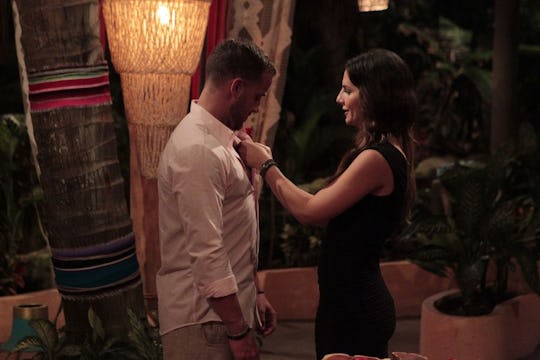 Rick Rowell/ABC
Are Izzy & Vinny Still Together After 'Bachelor In Paradise?' Their Future Is Unsure
Since day one, Vinny Ventiera and Izzy Goodkind have been one of this season of Bachelor in Paradise's strongest couples. Since their kiss on that first night, these two have been pretty much inseparable, sparking the portmanteau "Vizzy" and teaming up with the resort's other power couple, Grant and Lace (Grace) to form the "Fantastic Four." So now that everyone has left paradise, are Izzy and Vinny still together? Obviously they can't give anything away yet, as the show is still happening. But if they are together, they're doing a better job of keeping it mum than some other Bachelor in Paradise couples.
Neither Vinny nor Izzy were particularly memorable on their respective seasons of The Bachelorette or The Bachelor, but they have certainly made a name for themselves in Paradise for their seemingly airtight bond. Then again, the previews for Monday's episode show that there seems to be trouble brewing for the once perfectly matched pair. In the preview, Vinny says to the camera, "This morning, I thought I would leave paradise with Izzy, but what we had has been ripped apart." Ruh roh. That certainly doesn't sound like a good sign. So what happened between these two kids who were once so in sync?
Possibly, they've broken up following the new arrivals to the resort. It looks like the appearance of Brett in particular may shake things up in a major way for the residents of Paradise. Could it be, as some rumors have suggested, that Izzy is going to express an interest in Brett, thus dashing the hopes of Vinny and believers in love at first sight everywhere? Could be. Vinny tearfully says to Izzy in the preview "You're going to watch this, and you're going to hear the things I've said about you..." No, that's not a tear, I just have something in my eye, you guys.
The couple's social media so far has not been a wealth of information as to their status. They've both certainly been promoting the show a lot, but Izzy has posted more photos with Christian than with Vinny. Then again, she has also Tweeted and Instagrammed some sweet things about Mr. Vinsane, including tweeting the phrase "I'm in it to Vin it," which certainly sounds like a reference to Vinny to me. So are they or aren't they? Unfortunately, we're probably just going to have to wait to know for sure.