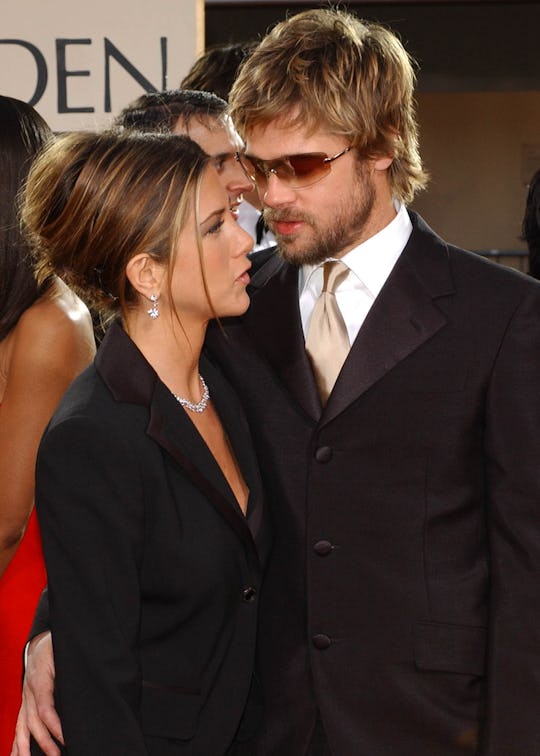 LUCY NICHOLSON/AFP/Getty Images
Are Jennifer Aniston & Brad Pitt Still Friends? Here's Why It Doesn't Matter
#Brangelina wasn't the only trending Twitter topic this week. As news broke about the impending divorce of golden couple Angelina Jolie and Brad Pitt, Twitter users rushed to the social media site to share their shock and sadness — along with a few hilarious Jennifer Aniston memes, which subsequently shot the former Friends actress to the top of the Twitter charts, too. If you'll recall, the previously married Aniston and Pitt were once considered Hollywood's "It" couple… that is, until Pitt started filming Mr. and Mrs. Smith, fell in love with co-star Jolie, and reportedly left Aniston to build a family with his new love. Though Aniston has yet to publicly comment on her ex-husband's second divorce — the memes were simply how people assumed she would react — it's certainly natural to be curious: Are Jennifer Aniston and Brad Pitt still friends? Does she even care that the woman her ex left her for is now divorcing him?
Once again, all we have to answer those questions is speculation. Here's what's been reported so far: An "insider" told US Weekly that Aniston "always got the sense that something would happen with them eventually. She didn't feel that Angelina was truly the one who Brad was meant to stay with." When discussing news of the Brangelina divorce with a friend, Aniston supposedly remarked, "Yeah, that's karma for you!"
Yet another anonymous source separately spilled the beans to US Weekly, claiming Aniston "admittedly feels sort of satisfied about Brad and Angelina's split," but that she "never wanted this for them or wished this on them." The mystery commenter also insisted that "Jen does wish Brad luck and the best. She feels like she's happy, and she wants him to be happy too. Jen does not hold on to any negativity from her marriage to Brad."
Aniston was seen in public for the first time after the Brangelina divorce announcement on Thursday, arriving at her Greenwich Village apartment after returning to New York from Los Angeles. She was apparently "sporting a smile and a golden tan," no doubt fueling additional rumors that she's happily celebrating the demise of her former beau's relationship.
Here's the thing: Aniston herself hasn't released a statement about Pitt's impending divorce or the allegations of child abuse against him… And why would she? Their own split happened more than a decade ago, and Aniston happily married fellow actor Justin Theroux in August 2015 after nearly five years together. Though cast as the ultimate "spurned wife" in the media, Aniston has maintained a friendly rapport with her ex since they split, telling CBS Sunday Morning last year that the two had "exchanged good wishes and all that sort of stuff to each other," but weren't regularly in contact. In 2013, a friend of Pitt's told US Weekly that he and Aniston were "very good friends."
If you're still wondering whether Aniston and Pitt are friends, I'd point you to those previous statements on the matter and advise you to go on with your day. And if you're still waiting with oh-so-baited breath for a public comment from Aniston, I'll save you the trouble: There is no real statement, because Aniston has better things to do with her life. I'm sure if she did issue any remarks, they would go something like "I was saddened to hear of his break-up with Ms. Jolie and wish him and his family all the best in the future."
Case closed.