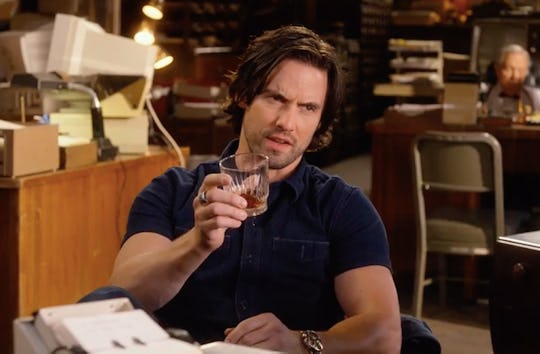 Are Jess & Rory Together In The 'Gilmore Girls' Revival? The Trailer Hints At Their Fate
Odds are by now most of you are on your second or third (alright fine, tenth) viewing of the newly released Gilmore Girls revival trailer and are freaking out over all of the little details that have come with it. But if there's one thing that I'm sure many fans have honed in on, it's the very distinct possibility that Jess and Rory are together in the Gilmore Girls: A Year in the Life.
I say this because of the obvious connection that still exists between the two of them and how Rory continues to turn to him after all this time whenever she's feeling lost or confused. In fact, that's precisely what their shown discussing throughout the clip. Rory is feeling lost in her life, but Jess assures her that she's "still a contender." Oh, and did I mention all of this is taking place with alcohol? Yup, the two of them are sitting around and drinking together (is that whiskey) as if they've been doing it for years. And while, sure, this is something that two friends could easily do together, let's be honest — Rory and Jess were never just friends. So even if they aren't together right in the moment, I wouldn't be too surprised if it ends up happening sometime in the very near future.
Jess and Rory 'shippers are undoubtedly thrilled to see this prospect look more and more likely. After all, the last interaction we've seen between the two of them involved a kiss that Rory instantly regretted since she was dating Logan at the time. That's not the type of closure these two deserve. In my opinion, Jess has always been the one to really get who Rory is and wants to be. In fact, he's even the one who snapped her out of her funk and inspired her to go back to Yale after her horrible internship left her confidence shaken.
Despite his rebellious teenage nature, Jess has always cared deeply about Rory, so I'll be interested to see what their relationship will be like now that they're both grown adults. I've always felt they were right for each other and if this teaser scene is any indication, then we could be in for another epic love story.