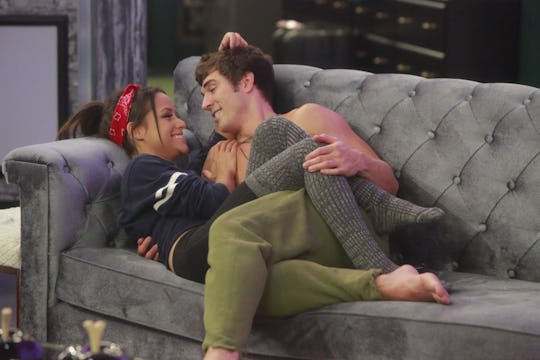 Bill Inoshita/CBS
Jessica & Cody Will Reunite For The 'Big Brother 19' Finale
Although Big Brother 19 seemed to be all about veteran Paul's return to the game, there were actually a few other stand outs this season. For example, showmance Jessica and Cody somehow went from being two of the most hated houseguests in the house to fans now rooting for one of them to win America's Favorite Houseguest. After the house blindsided them, sending home Jillian instead of Christmas, it was "Jody" against the house, and fans quickly joined Team Jody. Now viewers are wondering are Jessica and Cody still together after Big Brother 19?
The power couple still appear to be a strong duo and more in love than ever. Jessica, who was evicted right before jury began, is now home and active on Twitter, retweeting cute videos and images of her and Cody. Additionally, she's done various interviews in which she's confirmed she and Cody have already made plans to make their relationship work long distance, once the season is officially over.
The pair will split their time between Jess' home in Los Angeles, California and Cody's home in Dallas, Texas. Jessica has also revealed she'll be taking Cody and his five-year-old daughter, Paisley, to Disneyland when he's back home.
Although Cody was evicted right after Jessica, he's still unable to interact with the real world because he was the first member in the jury. Thus, he's unfortunately been stuck in the jury house, while Jessica's been on the outside. However, that will finally all come to an end tonight when Cody, along with the eight other jurors, decide who wins the $500,000 grand prize.
Jody fans aren't all that invested in who Cody plans to vote for, though. They're more interested in whether or not Cody will propose to Jessica during the finale. When Cody was evicted from the BB house (for the second time), he told host Julie Chen that he's going to marry Jessica. However, when he was asked about it by Entertainment Weekly, the army vet seemed to backtrack. "I blacked out when Julie asked me that question," he confessed. "My heart was pounding and she caught me off guard!"
Sure Cody. I too accidentally say I'm going to marry someone on live TV. Whether or not Cody truly plans on getting down on one knee tonight, the finale will be interesting regardless. Many viewers are hoping either Jessica or Cody will win America's Favorite Houseguest so the other houseguests will finally realize most people were team Jody throughout the season.
Additionally, although Paul is very confident he has this game in the bag, people are hoping he'll end up getting second place for the second time in a row. Paul was successful in keeping his hands pretty clean when having his targets eliminated from the house, but now that most of the jurors are all together, there's no doubt they're comparing notes.
Though Paul definitely played an excellent social game this season, if he has a bitter jury they may vote against him. Paul successfully lied and manipulated these houseguests all season, and now that they most likely know they were played, they may want revenge.
Alternatively, they could very well still be under Paul's thumb. During her final interview after leaving the house, Raven didn't blame Paul at all for her being evicted and said that she still trusted him completely. Most likely, her beau, Matt, will also vote the way Raven does, which could already mean two votes in his favor. Kevin also said he has no bad feelings towards Paul. So it seems Paul could win it all tonight, but fans will just have to tune in and see.
Watch Romper's new video series, Romper's Doula Diaries:
Check out the entire Romper's Doula Diaries series and other videos on Facebook and the Bustle app across Apple TV, Roku, and Amazon Fire TV.