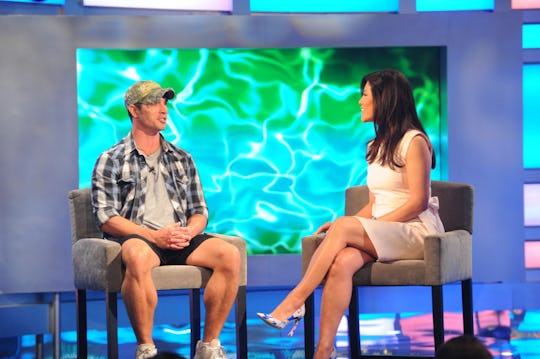 Johnny Vy/CBS
Cody's Daughter May Already Be Bonding With Jessica Outside Of 'BB19'
Though Jessica and Cody's time in the Big Brother house has come to an end, their relationship certainly hasn't. When Cody was evicted from the house last Thursday, he made it abundantly clear that he's very much in love with Jessica for real. But what does Cody's daughter think of Jessica from Big Brother 19? Hopefully, she'll like her as much as her dad clearly does.
Cody's daughter, Paisley, is only five years old, so there's no way to know how she really feels about her dad's new girlfriend at the moment, but Cody and Jessica don't seem worried about Paisley's reaction to the new relationship. In fact, Jessica plans on taking Cody and Paisley to Disneyland once the season is over. Jessica also seems to be getting to know Cody's family, now that's she back in the real world. Earlier this week she tweeted: "So grateful that my boyfriends family is so incredible," with a heart.
Though she didn't share any pics or anything, it's clear she's at least been in contact with some of Cody's relatives and they've already accepted her as one of their own. But while the separation is undoubtedly hard on them, this duo has already made a plan for how they'll make their relationship work long distance once the show is over. Jessica revealed to Entertainment Weekly that they'll be splitting their time between Cody's home in Dallas and her home in Los Angeles.
It's obvious both Cody and Jessica are serious about their commitment to each other, and after everything they went through in the house, it's no surprise that they're willing to face anything together. Though they haven't known each other that long, Cody is even ready to tie the knot with Jessica.
After he was evicted from the house for the second time, host Julie Chen asked him if he's going to marry Jessica. "I will!" he accidentally blurted out, showing more emotion than he has all season. Jessica seems to be down with the marriage plan and retweeted his confirmation that he'll marry her. She even seems to be hinting at a proposal happening on finale night.
Whether the proposal is simply a ploy to take away attention from whoever wins (most likely Paul at this point) or a legit proposal, fans are desperate for it. Many have already started referring to Jessica and Cody (#Jody) as a married couple.
Could wedding bells really be in the near future for these two? Fans will just have to wait and see.