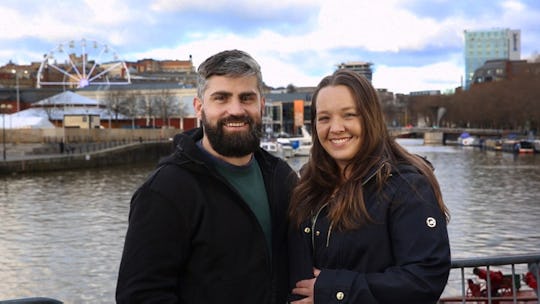 TLC
Why Some Fans Believe Jon & Rachel From '90 Day Fiancé' Are Already Married
Things are getting serious on 90 Day Fiancé; couples either seem to be falling apart or talking about marriage. Jon and Rachel are in the latter camp. So, are Jon and Rachel from 90 Day Fiancé married? Some fans have done some pretty extensive internet research.
There's no official word on whether the two are hitched, and probably won't be until it's shown on the show (which was the case for fellow Before the 90 Days couple, Paul and Karine, who got married on the last episode). That doesn't stop the two from hinting or messing around with fans, however. On August 30 — when Season 2 of Before the 90 Days was already in full swing, but not enough to know the current update on their relationship — Jon posted a video of he and Rachel in a church. "On the 20th December 2017- Rachel and I walked down the aisle in a small 12th church in a small undisclosed location," the caption began.
I'm not going to lie, at first I thought Jon actually spoiled this season and was shocked that the video wasn't taken down. But then I read the second half of the caption: "The church was open to the public after a short walk around the church l [sic], we went and had a nice hot cuppa." Ugh, of course. It wasn't Jon and Rachel's wedding; they were just sightseeing.
While Jon's post may be a bit obnoxious to fans who are curious about what Jon and Rachel are up to, other viewers may have dug up the information they're looking for. In early August, Redditor JonInCa posted what may be Jon and Rachel's marriage certificate in New Mexico, dated June 5, 2018. Gossip site Starcasm did some research from their own and found a different marriage certificate for Jon and Rachel, this one from May 31 in England.
Of course, I would take these with a grain of salt seeing as this season of 90 Day Fiancé is not quite over, and Jon and Rachel still have some drama to iron out. On the last episode of Before the 90 Days, Rachel's father expressed concerns due to Jon's criminal record. Jon couldn't get a visa to visit Rachel in the United States prior to this first "in-person" visit, which is a big deal. While Jon got into some legal trouble due to fighting, he insisted that he is not a violent person. The jury is still out on whether her father believes him, but Rachel has accepted Jon's past and loves him anyway.
Despite Rachel's acceptance, the visa issue brings up a roadblock in their relationship: Rachel shares custody of her elder daughter with her biological father, so she can't move to England at this time. If he can't come to the United States, what could they do? (Presumably, if Jon and Rachel got married it would be easier for him to enter the states rather than before because they didn't even know each other in person.)
Even with hardships in their way, Jon couldn't help but propose to Rachel on a cliff overlooking the ocean. Rachel said yes, and I can only assume they will smooth out these issues later on. From the looks of the internet, they may have already. Unlike some other 90 Day Fiancé couples, Jon and Rachel seem like the real deal to me. They met on a karaoke app, fell in love long-distance, and are together now! It's a love story truly worthy of 2018. Fans will have to watch the rest of the season to see if they actually do go through with the engagement and get married (and perhaps move to the states?), but if the internet sleuths have it right, the two are still happily in love.