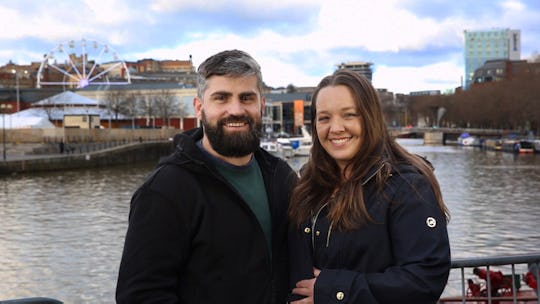 TLC
Rachel & Jon From '90 Day Fiance' Met On A Karaoke App Of All Places
These days, social media has made it possible to meet potential romantic partners in a ton of ways beyond the old fashioned in-person way. Take Jon and Rachel on 90 Day Fiancé: Before the 90 Days. They met on a singing app of all things. But since it's such an unorthodox way of meeting, it makes you wonder what karaoke app Rachel and Jon met on before 90 Day Fiancé: Before the 90 Days. Who knows, maybe singing duets is the next big thing in online match-making.
According to a joint Instagram account for the couple called Follow Our Fairytale, the app Jon and Rachel met on is called Smule. It's available for both iOS and Android users and works kind of like any other similar social media karaoke app. You can either record yourself singing alone and upload that video for all to see or choose to sing a duet with a random user. I highly doubt the app was ever meant to bring a couple together romantically, but Rachel and Jon met while singing their own duet and from there, it blossomed into something much more.
On Smule's website, it does say that users can be paired up with anyone from around the world, and that the goal is to bring everyone together through music. "Who knows, you might just find your harmonious doppelganger or melodic twin separated at birth," the website says. Rachel and Jon may live on opposite sides of the world, but once they connected on Smule, there seemed to be no going back for the pair.
The couple were so enamored with each other after meeting on the karaoke app that Jon even had plans to fly to meet Rachel for the first time when she gave birth to her now eight month old baby. Things didn't pan out at the time, but he was there via video conference call, so they'd remained pretty consistent in each other's lives even before meeting in person. The preview for Season 2 of 90 Day Fiancé: Before the 90 Days shows Rachel traveling overseas to meet Jon with her baby in tow in order to see how they work out in person. And judging by social media alone and the tons of loving comments they leave on each other's posts, it certainly seems like they have a good thing going. Rachel even sent Jon a piece of her baby's umbilical cord at the time, so there's that.
Part of Rachel and Jon's journey this season will be seeing if they actually mesh well together after talking and dating (via the internet) for two years. Rachel is also going to confront Jon about his questionable past, part of which allegedly prevented him from being able to travel to the U.S. for her baby's birth. It's all in a day's work on reality TV, but I'm also inclined to believe that these two just might be able to work it out. Their story of meeting on the Smule app is too good not to have a happy ending.
As with most other couples in the 90 Day Fiancé franchise, Rachel and Jon haven't been as vocal about their relationship in recent weeks. This could be to avoid giving away any spoilers that might air on the show, and I like to imagine that they're still together after the show. And to think, they have a karaoke app of all things to thank for bringing them together.